Original and the best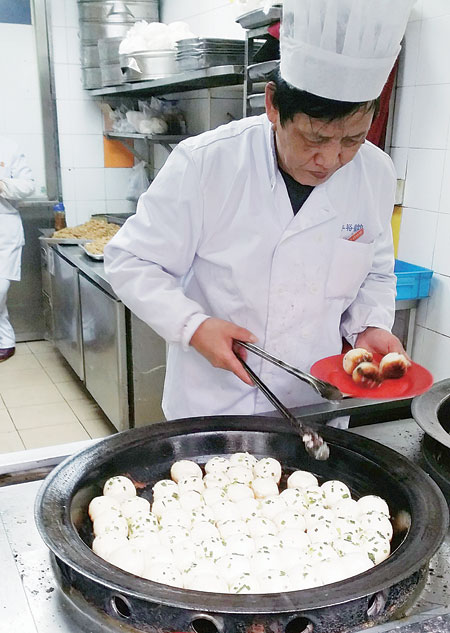 DUMPLING TIME: The simple shengjian at Fengyu are a treat for food lovers. [Photo by Xu Xiaomin/Shanghai Star]
It's a simple restaurant that has been churning out one of Shanghai's favorite snacks for decades, and Xu Xiaomin is always willing to wait for a table.
In most cases, I pay more attention to the interior design of a restaurant than to the food itself. You can laugh at me but comfort truly is a priority for me when choosing a restaurant to spend a casual, private yet tasteful time in. The only exception is Fengyu, a home grown bistro that serves shengjian or pan-fried buns in a rough and ready dining space.
The taste of their shengjian, a snack originally from Shanghai, makes me put up with its oily table, casual service and long lines during lunch and dinner times. The old restaurant with a history of half a century, boasts an award for its shengjian as it was praised by the China Cuisine Association as an acclaimed snack in 1997. I think it well-deserves the crown.
The essence of shengjian, unlike xiaolongbao or steamed bun which features its semi-transparent skin, is its thick and chewy bottom. After being pan fried in hot oil, the bottom turns black as if it is burned, and becomes crispy. It is perfect when accompanied by the skin made of flour, rich juice and fresh filling made of minced pork. A small amount of sesame and chopped green onion on the top just adds a fresh touch.
If someone were to compare shengjian with xiaolongbao, the two most acclaimed snacks in Shanghai, they may complain the former's skin is too thick and has less soup inside. This is a misunderstanding about what a shengjian is. The reason I prefer shengjian to xiaolongbao is exactly its thick flour skin which can better balance the oily taste of its pork filling. Every time I visit the restaurant, I tuck away eight buns just as I did when I was only five years old. And the price is so reasonable — 5 yuan for four shengjian buns.
The bistro, which has dozens of branches all over the city, still maintains its relevancy, with a wide kaleidoscope of takeaway dishes including cold dishes and dim sum, among which the Shanghai-style duck seasoned with soybean sauce, dumpling with pork fillings are most popular.
IF YOU GO
Address: 142 Ruijin Yi Road
Tel: 021-5404-6404