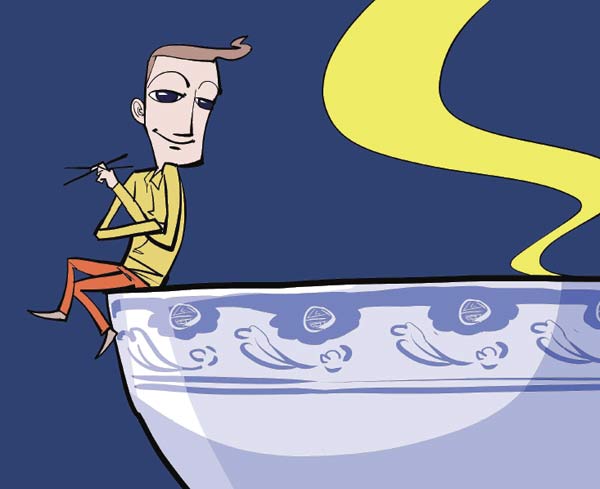 Zhang Chengliang/Shanghai Star
Editor's note: Ivan Diaz Campos comes from Costa Rica in Central America and is a master degree student majored in International Politics in Fudan University. He has lived in Shanghai for four months. This is his first visit to China.
Food is a fundamental in everyone's life. It doesn't matter if you are a student, business man, backpacker or a normal tourist, no matter where you are in China, meal times are very important. China is a great place if you are a food lover and adventurer.
But, if you have just arrived in China, and you are experiencing culture shock for the first time, and if you have very basic Chinese language, then you know the real adventure of eating in China.
My Chinese language is very poor, so the simple action of ordering food can be a major challenge. In my case, I am lucky, because I live in Shanghai where some restaurants have menus in English, or at least a little description of the dishes. But this is not enough to order food like a normal person, so, I resort to pointing and saying "wo yao zhe ge" (I want that one), pointing is a universal language.
You will face some diffculties if, like me, you do not eat spicy food. Some dishes in China can be really spicy, such as the famous "Hotpots" in some streets. One of my most utilized phrases is probably "bu yao la" (don't want spice).
The great variety of food, is incredible, and a diverse variety of dishes can be found in the space of just 200 meters. You will face a big problem if you are an indecisive person, like me. Sometimes, I spend more time making the decision about what to eat than I do actually eating the food. It's hard to decide among dumplings, noodles, roast duck, curry, hundreds of kinds of rice, seafood or Xinjiang food and so on. This huge variety also means there can be a huge difference in price, serving size and flavors.
On a special occasion you can go downtown and enjoy a fancy dinner; if you are hungry, go to an "All you can eat" buffet; or if you are an adventurous person with a little bit of Chinese language, you can immerse yourself in the alleyways of Shanghai and you will find delicious food at a very good price, plus experience up close everyday life in the old quarters of the city.
Finally, you cannot forget the street food. It is probably not the most healthy option but the flavor is really good. All students know that it is late and you are hungry, the best option is street food. My recommendation is the Chinese hamburger "rou jia mo" and the Chinese BBQ "shao kao". The food in China is a great adventure, I will never forget it. If you are new to the country you know what I mean, and it is not your first time here, just enjoy your meal.