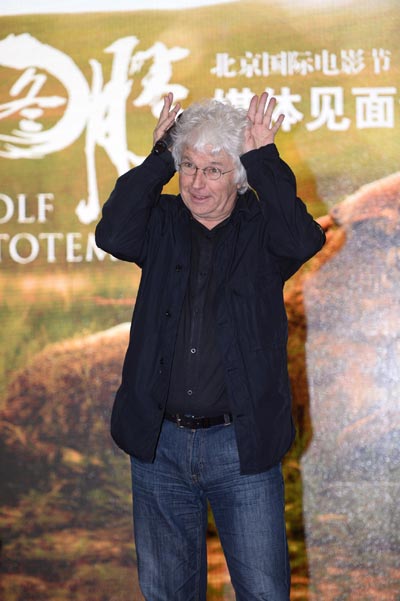 French director Jean Jacques Annaud attends a press conference to promote his new movie Wolf Totem in Beijing. Photo provided to China Daily
Even for Jean Jacques Annaud, known for his animal films The Bear and Two Brothers, the making of Wolf Totem has been a real challenge.
The 71-year-old French director has spent the past four years in China, mostly in Beijing and the Inner Mongolia autonomous region, where he trained 35 wolves with Canadian trainer Andrew Simpson and longtime producer Xavier Castano.
The wolves are important characters in Wolf Totem, a film based on the Chinese bestseller of the same name by Jiang Rong. It traces two young men's experiences on the Inner Mongolian grasslands, especially their interactions with the wolves there. Penguin published the book's English edition in 2008.
Many scenes in the film deal with wolves fighting with men and other animals. They could have been computergenerated, but Annaud insisted on using real wolves. Some also suggested using dogs and manipulating their tails with steel strings to look like those of the wolves' , but the director refused.
"Only with real wolves is this film a picture that shows the genuine nature of the animal," he says.
To cast the wild animals challenged the crew's patience from the very beginning. The Mongolian wolves the novel depicts are rare, and the adult wolves could barely be trained. So they had to raise the wolves from cubs to adults, during which time some new cub wolves were born. Only wolves that grew up with the crew would feel accustomed to people being around and not try to escape when the camera rolled.