Wang Le, a recent graduate with a degree in environmental art design from Ningbo University in Zhejiang province has designed a small 3.8 square meter log cabin that stands at a slender 4.2 meters. It cost less than 10,000 yuan ($1,605.11), and has a kitchen, bathroom and bedroom.
After finishing the home's blue print, Wang Le spent eight days assembling the small living space with the help of a carpenter.
The first floor has a kitchen and bathroom, while the second floor features a bedroom and study.
Although designed for one or two inhabitants, this experiment has now proven that the second floor can hold four men weighing 65 kg each.
Other than functioning as a cozy nest for new graduates or immigrant workers, if allowed, his log cabin will be placed in forests and parks throughout cities, or can be rented at popular tourist spots, said Wang Le, who is confident about his environment friendly and economical endeavor.
This "mini-house" is now on display at the Ningbo campus, and has already attracted many visitors.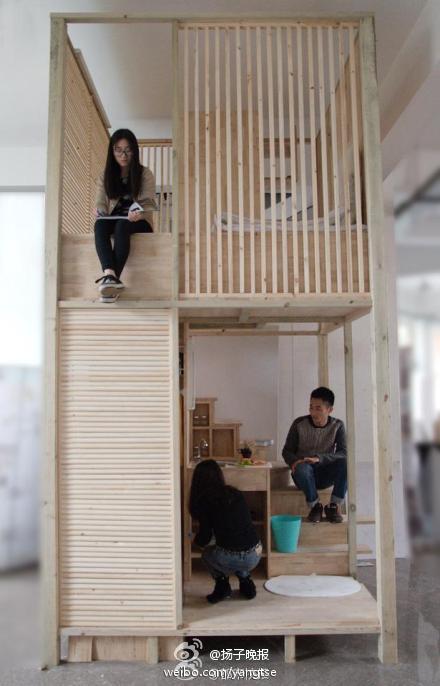 The home designed by Wang Le. [Photo/weibo.com]