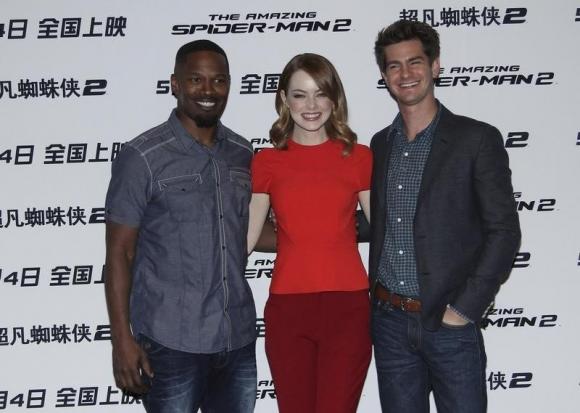 Cast members (L-R) Jamie Foxx, Emma Stone and Andrew Garfield attend a promotional tour of "The Amazing Spider-Man 2" in Beijing, March 25, 2014. [Photo/Agencies]
"The Amazing Spider-Man 2," a sequel about the web-slinging superhero, snared $92 million in US and Canadian ticket sales over the weekend, taking the top spot on movie box office charts at the start of Hollywood's lucrative summer blockbuster season.
The big-budget, effects-filled movie starring Andrew Garfield is expected to rank as one of the year's highest-grossing films. With international sales, it has rung up nearly $370 million around the globe through Sunday, distributor Sony Corp said.
"The Other Woman," a comedy about three women out for revenge on a cheating husband, finished a distant second on domestic charts with $14.2 million, according to estimates from tracking firm Rentrak.
"Captain America: The Winter Soldier," another superhero sequel and previous box office champ, landed in the No. 4 slot with $7.8 million from Friday through Sunday, behind "Heaven Is for Real," a faith-based drama and Sony release which grabbed third place with $8.7 million for a $65 million box office total in just its third week of release.
The performance of "Spider-Man 2" could not quite match the strong domestic opening for "Captain America" in April, when the Marvel Studios film took in $95 million over its first three days. Ahead of the weekend, box office forecasters projected "Spider-Man" would collect $85 million to $95 million.
In the "Spider-Man" sequel, Garfield returns as the masked hero who swings through the streets and skyscrapers of New York, battling new villains including the formidable Electro played by Jamie Foxx. Garfield's real-life girlfriend, Emma Stone, portrays Gwen Stacy, the on-screen love interest of Spidey alter ego Peter Parker.
"This was a really fantastic result," said Rory Bruer, president of worldwide distribution for Sony Pictures Entertainment, adding that the opening bodes well for Sony "not only meeting our goals, but exceeding them."
The film is Sony's biggest bet this year, with a production cost of roughly $200 million, according to movie website IMDB. Last summer, the studio suffered from two major bombs, thrillers "After Earth" and "White House Down."