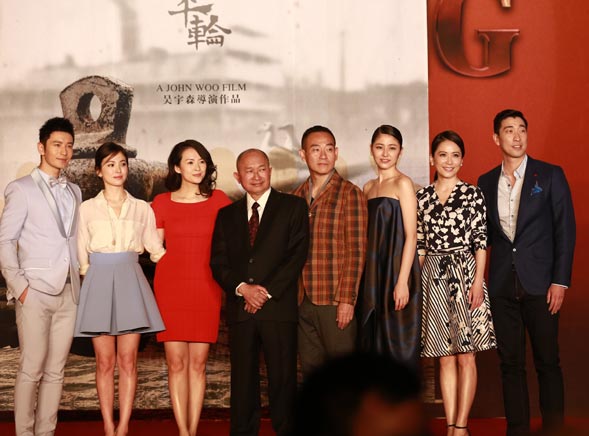 John Woo's forthcoming film teams up stars from China, Japan and South Korea. Photo provided to China Daily
A "femaleoriented film", a love story like David Lean's Doctor Zhivago, a Chinese version of Titanic-these taglines have all been attributed to a veteran filmmaker's surprising new opus.
John Woo, known in both China and Hollywood for his graphic action sequences and the depiction of masculinity in smash hits like Face Off and The Killer, has returned to the public eye by announcing he is making the first romantic film in his 30-year directing career.
The Crossing is based on an accident in 1949, when a ship carrying people from the mainland to Taiwan at the end of the War of Liberation (194549) collided with a freighter, costing 1,000 lives.
"It is my first romance so I am very excited about it," says Woo.
"It is also a good opportunity to show that action and violence are not all my films are about. I can make very good femaleoriented romantic films, too."
The film follows three young couples' fate against the chaotic era, starring celebrated actresses from China, Japan and South Korea.
Zhang Ziyi, who has won 10 best actress awards in different film festivals for her role in Wong Karwai's The Grandmaster, appears with Japanese star Masami Nagasawa and beloved South Korean actress Song Hyekyo.
Filming has wrapped up, and the premiere is expected in October.
Rising to fame in Hong Kong with his action films, Woo was one of the few Chinese directors acknowledged in Hollywood, where he made the wellreceived Face Off and Broken Arrow. In recent years he has been living and working on the mainland. His last work, the costume epic Red Cliff, was a boxoffice success across Asia. Despite witnessing the rapid growth of the box office and the frenzy of filmmaking in China over the past years, he does not think it is time to celebrate.
"We have a very good market, now but not enough good films to live up to audiences' expectations," he says.
"Many directors focus on short-term profits, not touching, quality works."