Harrison Ford seriously injured in small-plane crash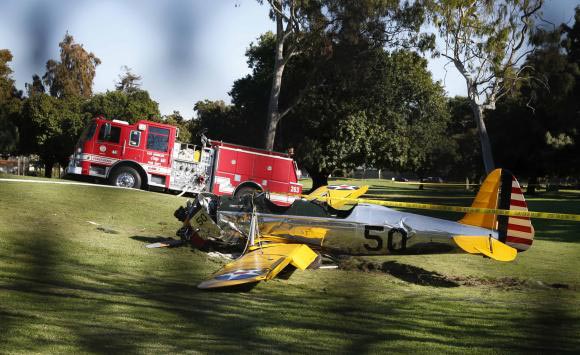 An airplane sits after crash landing at Penmar Golf Course in Venice California March 5, 2015. [Photo/Agencies]
Actor Harrison Ford was seriously injured on Thursday in the crash of a small airplane on a Los Angeles golf course, celebrity website TMZ and local media reported.
Reuters could not immediately confirm the TMZ report, which said Ford, 72, suffered multiple gashes to his head in the crash just over a mile (1.6 km) from Santa Monica Airport and was taken to a nearby hospital for treatment.
"We can confirm that there was a plane crash and the male occupant was a 65-70 years old man. He was transported to a local hospital in stable condition," Los Angeles Police Department spokeswoman Officer Nuria Vanegas said.
"The incident was reported at 2:25 pm, it was mechanical failure of plane, that's what caused the accident," Vanegas said.
Assistant Los Angeles Fire Chief Patrick Butler told reporters that the plane struck a tree as it crashed onto the golf course.
Butler said the sole occupant of the plane was conscious and breathing following the crash and was initially tended to be bystanders before paramedics responded and transported him to a local hospital in "fair to moderate" condition.