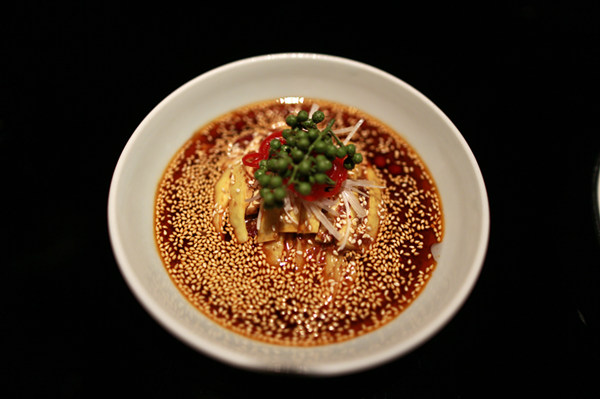 Mouth-watering chicken. [Photo by Feng Yongbin/China Daily]
Tempering pepper corns while stimulating palates wocks at Transit.
In Beijing's growing gastronomic scene, there never seems to be a shortage of fine dining options for Mediterranean cuisines. But if you are looking for a posh dining spot highlighting Sichuan cuisine, Transit is the place to go.
At a recent dinner at Transit, the restaurant showcased contemporary Sichuan cuisine and altered my ideas about Sichuan restaurants in Beijing - which are mostly noisy and with oily food that sets diners' mouths on fire.
Transit's dishes have attitude presenting a milder level of numbing spice and a restrained use of oil while maintaining classic Sichuan flavors.
Perched in the quieter, upper end of Sanlitun Village North, Transit boasts a tranquil and elegant setting. It has low-key decor with muted lighting and an inviting atmosphere.
Each dish we had was executed outstandingly and they all seemed to be meticulously prepared and presented.
We ordered the classic Sichuan dish mouth-watering chicken as an appetizer. The cold dish has the name "Saliva chicken" in Chinese because it's so good that people drool at the sight of it.
The dish at Transit is suitably drool-worthy. My dining companion and I were both taken aback. We were impressed, and agreed it was the best version of the dish we have ever eaten. Boiled chicken slices are doused in a rich sauce including sesame paste, chili oil, numbing Sichuan peppercorns, peanuts, and vinegar. The meat tastes incredibly smooth and moist, succulent with the mix of flavors of numbing spicy, sweet, savory, sour, and oily, but not greasy. In a word, it is an essential dish to order at Transit that can fully ignite your taste buds.
Grace Zhao, 40, executive chef of Transit, says the beauty is not only in the sauce, but also the special variety of organic young chicken that's much more tender and farmed only by Transit suppliers.
Dandan noodles, a popular snack that can be found in almost all Sichuan restaurants, are made with precision at Transit. The soupy noodles topped with minced pork, peanuts and preserved vegetables are rich in glistening chili oil, sesame oil and pepper sauce, but not at all greasy. Lime slices are squeezed over the noodles, the acidic juice helping to balance out the rich flavors while adding an undercurrent sourness.
"We are creating a modern Sichuan cuisine that uses quality oil, sparingly. We have an international culinary team as well as international diners. We do not pander to Western tastes, but present what we like. And guests seem to like the level of numbing spice we use," says Zhao.