Beauties in a brasserie for Chanel's Paris fashion show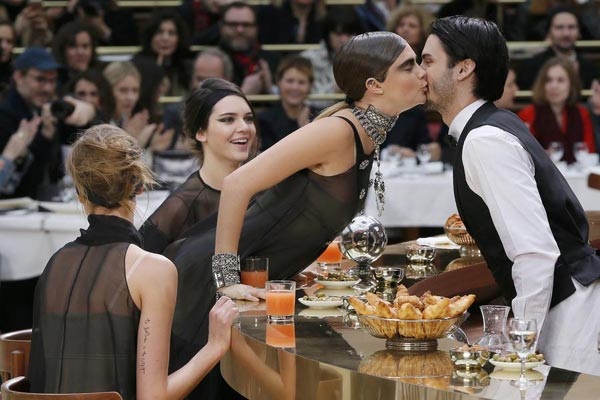 Model Cara Delevingne (center) kisses model Baptiste Giabiconi (right) as Kendall Jenner (second from the left) looks on during German designer Karl Lagerfeld's Autumn/Winter 2015/2016 women's ready-to-wear collection for French fashion house Chanel during Paris Fashion Week March 10, 2015. [Photo/Agencies]
I'll take a café, a croissant and a black and ivory silk cocktail dress, s'il vous plait.
Under the soaring glass ceiling of the Grand Palais, Chanel's Winter 2015 show was staged in an elaborate pop-up restaurant, complete with surly Parisian waiters in black waistcoats and white shirts and a bar serving champagne and coffee.
Creative Director Karl Lagerfeld showcased dresses and coats worn by models flitting in and out of the "Brasserie Gabrielle", ordering coffee or perusing newspapers.
"It's the daily life of a certain category of people," Lagerfeld explained after the show. "This is down-to-earth daily life - in certain circumstances."
The effect was reinforced by the hard-boiled eggs, croissants and plates of olives and radishes laid out on the bar of the brasserie named after the label's late founder Coco Chanel, whose real first name was Gabrielle.