Wise Quacks? Peking duck on a pizza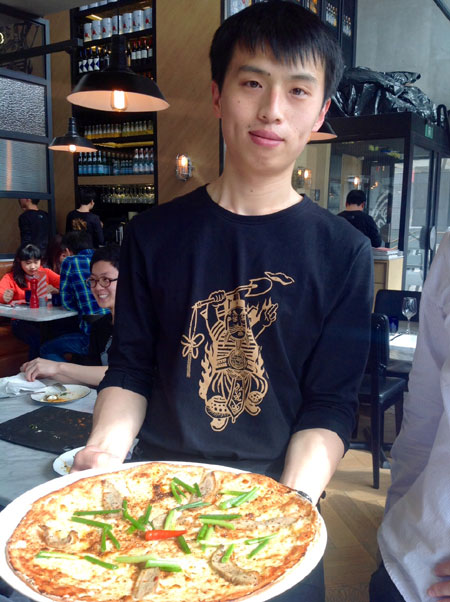 A staff member at Pizza Express in Beijing presents a Peking duck pizza. [Photo by Mike Peters/China Daily]
Some see Peking duck on a pizza as a triumph of culinary fusion. Others see mere confusion. Mike Peters ruffles a few feathers to sort it out.
You see it everywhere in this country: Western food "with Chinese characteristics", or with simple tinkering-a bit less sugar, say-to appeal more to Chinese palates.
The idea of putting Peking duck on an Italian pizza crust, however, seems to be edgier fusion than most. A visiting European food critic burst out laughing when I mentioned it, while an Italian assistant chef in a Peking Duck restaurant simply muttered "sacrilege".
His Chinese boss wouldn't dignify the question with a response. An Italian chef in Beijing who has won awards for pizza-making in Italy was similarly mum.
Pizza lovers around China, however, know that view is not universal.
"Yes, as often in life, there are equally as many detractors as supporters for that," says a laughing Jade Gray, the New Zealander who co-founded Gung Ho pizza in Beijing and was among the first to have a hit with a duck pie.
"We have not had the Peking Duck Pizza for the last year," he says. "We like to keep mixing up our menu, keeping it fresh and innovative. I have no doubt that we will bring it back for a visit at some point. It totally works, the hoisin sauce totally making it."
At Tiago, the family-style Italian restaurant opened by a Chinese couple last year in Indigo Mall, Peking duck pizza with spring onion continues to be a star.
"It's the best-seller for foreign guests," says manager Katie Li, who expects it to be even more popular when the restaurant opens its outdoor beer garden this spring.
"However, our Chinese customers prefer our house special, topped with Parma ham."