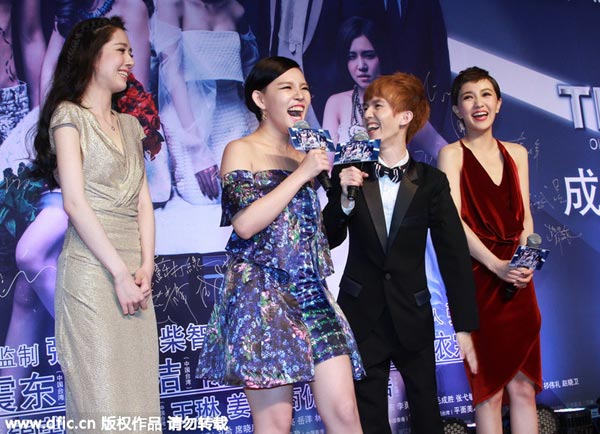 (From left to right) Actresses Bea Hayden, Evonne Sie, author and director Guo Jingming and actress Amber Kuo attend the premiere of Tiny Times III in Beijing on July 9, 2014. [Photo/IC]
Chinese writer-turned-director Guo Jingming's Tiny Times III, which grossed more than 500 million yuan ($798,500) at the box office but received bad reviews, has been nominated for "most disappointing film" at the Golden Broom Awards, China's equivalent of the Golden Raspberry Awards.
According to the organizers of the Golden Broom Awards, which asks the public to select the worst films of the year, this year's contest is taking place amid "the most shameless, uncreative and dreadful" time in China's film history.
Tiny Time III, inspired by a trilogy of popular young adult novels by Guo, tells the coming-of-age story of four fashionable college girls in Shanghai.
Guo's hardcore fans says he is the voice of a new material-minded generation, but many critics rated Tiny Times as superficial homage to consumerism that's setting a bad example for youth in China.
Top film critic Raymond Zhou, who writes for China Daily, compared the film with Twilight but said the Hollywood vampire flick is more interesting, whereas Guo's film is shallow with bad taste.
"I have seen 6,000 or 7,000 movies, and this is one of the few that I hate. I was aghast at it," said Zhou.
While reviewing it for Beijing News, Zhou called it "totally intolerable" and said its promotion of materialism was far worse than advertisements in luxury magazines.
Related: