Empresses in the Palace flops in North America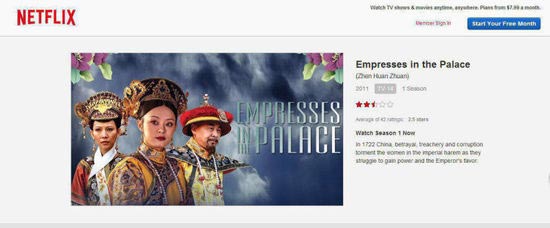 Chinese TV drama "Empresses in the Palace", or "the Legend of Zhenhuan" is now available on Netflix. [Photo/Agencies]
Empresses in the Palace
, the American version of
The Legend of Zhenhuan
which was made available for streaming on Netflix, has flopped in North America.
The Chinese drama scored low ratings among North American audiences with 2.5 stars in the US and only one star in Canada (the full score is five stars).
The two main criticisms of the drama were mainly focused on two weaknesses.
First, the 76 episodes of the Chinese version has been edited and cut down into 6 episodes for the American version. This has led to the elimination of a number of crucial details and classic episodes leading to incoherence in storytelling.
Another apparent weakness is the poor quality of translation into English with the subtitles lacking accuracy and consideration of context, leading to many misinterpreted lines discouraging American audiences from watching.
Related:
Hit Chinese TV series broadcasted in Netflix
Still photos fromThe Legend of Zhen Huan