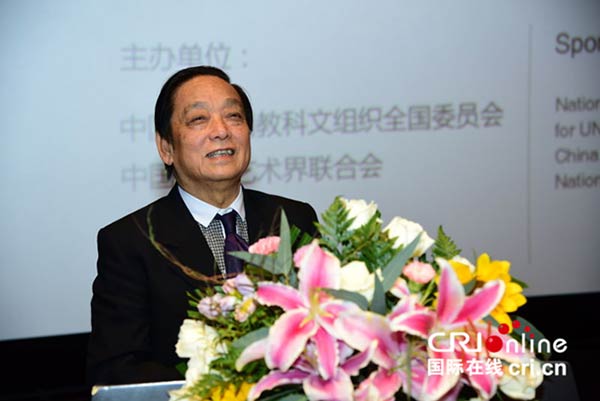 Han Meilin delivers a speech at the press conference announcing the "Han Meilin Art Global Tour Exhibition" on July 21. [Photo/cri.cn]
Han Meilin, the 79-year-old Chinese artist, has announced he will hold a global tour exhibition in Venice, Paris and Beijing from October 27 to March 27.
A press conference was held in Beijing on July 21 in the National Museum of China, where Han's tour through Italy, France and China will end.
An excited Han said he would bring his "rock paintings" and The Sealed Book (a comprehensive artistic book of Chinese ideography and symbols) to the world, displaying Chinese culture among various world cultures. He was not worried about the exhaustion of his inspiration.
"I drew 64 different designs of cow head within 20 minutes. My inspiration will not wither even in the following 200 years," he said proudly and with youthful excitement.
On October 27, the "Han Meilin Art Global Tour Exhibition -Meilin's world in Venice" will be held at the Venice University. Focusing on the grand theme of "heaven and earth", the Venice exhibition will showcase an overall view of his art masterpieces. Manuscripts, sculptures and two-dimensional works will be presented, which record the evolution from "rock painting" to The Sealed Book. Iron art, crockery, boccaro and wood carving will display the artist's vivid creation. An eight-meter-tall device, specially designed for spatial exhibition, will also be set up at the Venice University square.
As the curator of Han Meilin's global exhibition, Zhao Li, a professor at the Central Academy of Fine Arts (CAFA), believes Han's art works are closely related to China's historical process, of which many have become the cultural symbols of specific times. The exhibition, he revealed, will concentrate on modern, oriental and thematic features, embracing the world on the basis of Chinese art.