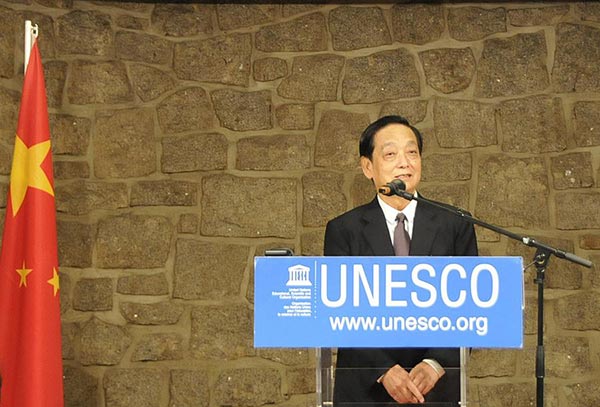 Chinese artist Han Meilin. [Photo/Xinhua]
Chinese painter, sculptor and designer Han Meilin, was designated on Tuesday by the Director-General of UNESCO, Irina Bokova, as UNESCO Artist for Peace in Paris.
Han was chosen "in recognition of his long-term commitment to promoting art and artistic education in China, his support to providing quality education to young people," said UNESCO in a press release.
Bokova said "UNESCO wants to further cooperate with Han Meilin in the future, especially in supporting and helping promising talented artists."
For Hao Ping, president of the 37th session of the organization's general conference, Han's designation, which coincided with UNESCO's 70th anniversary as well as that of the victory of the World Anti-Fascist War, would "contribute greatly to sustainable development and world peace".
Han said in his acceptance speech: "Being designated as UNESCO Artist for Peace is not only an honor, but also a mission and a responsibility," noting that "he would support UNESCO's activities notably in the fields of culture and education".
Through his appointment, Han joins a roster of internationally renowned personalities who use their influence, and prestige to help promote UNESCO's ideals and programs, including China Disabled Art Troupe, Chinese actress Gong Li, Canadian singer Celine Dion.
Related:
Chinese artists showcase paintings and calligraphy for Milan expo