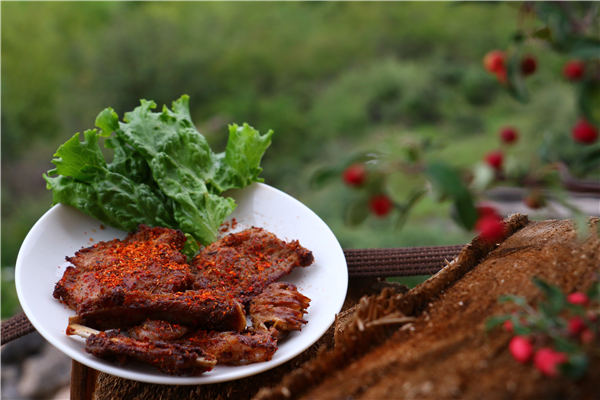 The smoky black Tibetan pork rib, a signature dish at Hylandia by Shangri-La. Photos provided to China Daily
Famed 'fragrant' pork, a Tibetan-style delicacy, delivers an authentic taste of Shangri-La, Xu Junqian discovers at a high-altitude tasting.
The rarefied air on the Shangri-La plateau - with an altitude of 3,270 meters in southern China's Yunnan province - isn't really the reason that chef Wu Tinggang speaks slowly with deliberate pauses. Neither isn't the silky smooth cabernet sauvignon produced from the highest vineyard in the world, Shangri-La Vineyard, though Wu sips more than half a dozen of glasses throughout the evening.
During his almost-20-year culinary career, the 37-year-old has cooked scores of steaks per day as part of training back at school, and catered for a luxury cruise with 5,000 passengers and 2,000 crew members for eight months. Now, however, in his new role as executive chef at Hylandia by Shangri-La, Wu simply finds it "an obligation" to slow down, enjoy work and life, and be idle, if not downright lazy.
"I was told on my first day here that if one doesn't have altitude sickness during the first month, it's Shangri-La wanting him to stay and enjoy the life here. Here I am, three months later with some altitude weight gain even," he jokes. The native of Chengdu, Sichuan province, had never in his life been to a plateau before coming to Shangri-La in June.
Three months later, the big achievement from Wu's kitchen, with some 20 cooks and another 20 helpers, is the smoky black Tibetan pork rib that, at a first glance, is no match for its classic Chinese peers, such as the golden-crusted and deep-fried pork chop from Shanghai, or the translucent half-fat-half-lean red-braised pork cube from Hunan province.