Let's get crabby!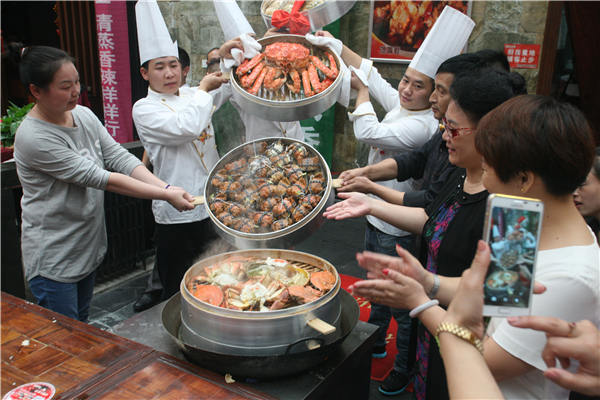 Chefs at a branch of Xie Lao Song, a restaurant chain specializing in cooking crabs, steamfresh crabs at the opening ceremony of its 16th annual crab festival. Provided To China Daily
All kinds of clawed crustaceans are finding their way to dinner plates now, Liu Zhihua reports.
In autumn, freshwater crabs are loaded with roe, sending gourmets in an eager quest for the late-year delicacies.
While restaurants all over China are highlighting da - zhaxie, or Chinese hairy crab, on their seasonal menus, Xie Lao Song is taking a broader approach with its 16th annual crab festival in Beijing, which is ongoing through Nov 22.
The restaurant chain, famous for specializing in cooking crabs, was first established in Wuhan, Hubei province, in 1998. It opened a branch in Beijing the next year. This year, three of its branches in the capital are taking part in the celebration that offers Beijing diners a large variety of crustacean delicacies, including dazhaxie and sea crabs.
One thing that makes Xie Lao Song crabs distinctive: the "fragrant and spicy sauce", which is made with a myriad Chinese herbs and flavorings. The recipe is a secret, a family legacy developed by one restaurant owner's great-grandfather. Widely used in many of the restaurant chain's signature dishes, the sauce imparts a distinct flavor, spicy mingled with a slight sweetness.
While Chinese people like the roe in freshwater crabs, they also have a large appetite for sea-crab meat - and the high demand even influences the price of sea crabs overseas, according to Zhu Shichun, co-owner of the restaurant chain.