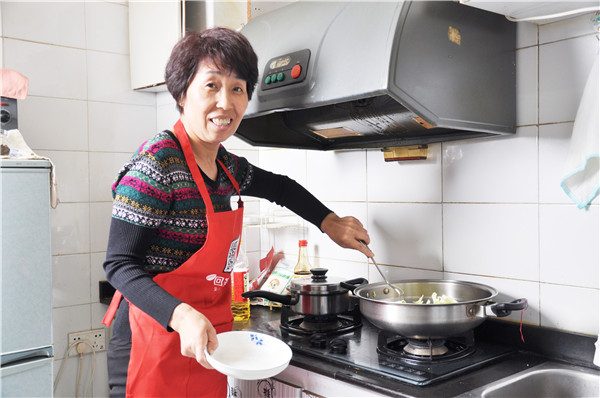 Qiao Biyun, one of the most popular home chefs on Home Cooked. [Photo provided to China Daily]
Gone are the days when the only solution if you wanted anything like a replacement for your mother's irreplaceable cooking was a top-class restaurant. These days, thanks to technology, the finest home-cooked meal can be placed on your table, and if you are a half-decent cook you can place the same on someone else's table.
In China, this is being made possible by mobile apps including Mama Weidao (which means mom flavors), Cengfan (cadge a meal) and Home Cooked, whose Chinese name is Huijia Chifan (go and eat at home).
Many of the apps allow people to sell their home-cooked dishes to others, and usually the app proprietors handle the delivery and logistics.
The proprietors of Mama Weidao and Cengfan say 10 million yuan ($1.57 million) has been invested in each of them, and Home Cooked, the most widely recognized one, has $10 million invested in it, Chinese media reports say. Home Cooked is now said to have 4,000 kitchens at its service.
On Home Cooked, each kitchen has an introduction page, including the owners' photos and descriptions of food offered and cooking methods.
Customers can browse the home kitchen listings rated by distance from the customer's choice of location and then click on a kitchen for details. The customer can either pick up the meals, have them delivered at extra cost or in some cases eat them at the home of the cook.
Wu Qiong, 28, who works for an international company in Beijing, says that these days she often orders meals from Home Cooked, especially during workdays.
"I've had enough of restaurants near work, and meals from Home Cooked are different."