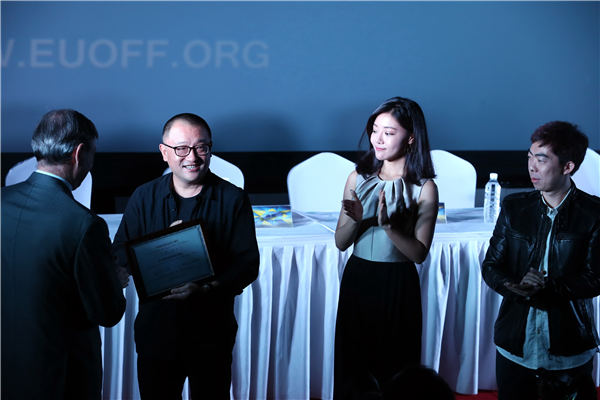 (From second left to right) Chinese director Wang Xiaoshuai, actress Deng Jiajia and director Lu Yang are invited as guests to the 2015 European Union Film Festival in China. Provided to China Daily
European arthouse hits, which usually reach mainland fans online or through DVDs, are now available to Chinese enthusiasts on the big screen, thanks to an ongoing high-profile event.
The 2015 European Union Film Festival in China, a cultural event celebrating the 40th anniversary of EU-China's diplomatic relations, is screening more than 40 feature and short films from all 28 EU member states.
The nearly 40-day event, which runs through Nov 6, will cover Beijing, Chengdu, Shenzhen and Jinan.
Among the movies being screened are the 2015 Oscar best foreign language film Ida, Cannes' Un Certain Regard winner White God, animation hit Song of the Sea and Cannes' Palme d'Or winner Dheepan.
Some of the other films being screened are Ernest and Celestine (Belgium), crowd-pleaser Cowboys (Croatia), star-studded thriller A Most Wanted Man (Germany), and Wim Wenders' beloved classic Wings of Desire (Germany).
Besides cinemas, Beijing moviegoers will also be able to view films at some European embassies and culture venues, such as the Embassy of Estonia, the Cervantes Institute and the Hungarian Cultural Institute.
Most top European festival circuit favorites have yet to be released for general viewing on the Chinese mainland as China currently allows only 34 foreign films to be screened every year in mainland theaters, and most of them are Hollywood blockbusters.
The Hollywood films typically come with heavy special effects and stellar casts but resemble each other in style.
Arthouse movies, on the other hand, which are artistically brilliant and thought-provoking, don't make it into China's movie market over fears about how they will perform commercially.