10th Rome Film Festival unveils lineup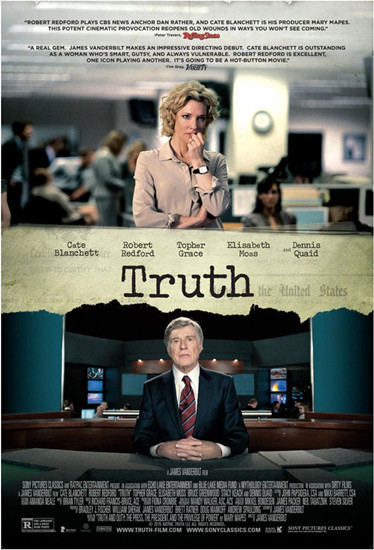 A poster of the film Truth. [Photo/mtime.com]
The 10th Rome Film Festival is announced to be mostly a celebration, as this year's edition will not give out any prizes or awards.
Artistic director of the festival, Antonio Monda, explains this decision.
"I wanted, and this is a decision I made and that I stand by, I hope it isn't controversial, I wanted to get rid of the judges, of the competition, of the host, of the awards with the exception of the people's choice award. I wanted to get rid of everything that detracts from the feeling of celebration."
This significant change of nature means the Roman event will no longer being a competition, but a celebration that gives priority to the quality of movies selected.
Antonio Monda also unveils the lineup of this year's event, with Jude Law and Wes Anderson on this list.
"The second evening we have the stars. Jude Law will be here to talk about his films and also the films that he loves. Then we have Wes Anderson and Donna Tartt together, Donna Tartt is not in the cinema industry, she is a great writer, winner of a Pulitzer prize. She will talk about why she loves Pasolini and other great Italian Directors and Wes Anderson will talk about why he loves De Sica."
The upcoming American biographical political drama, Truth will open the festival.
This year's Rome Film Festival runs from October 16th to 24th in the Italian capital.