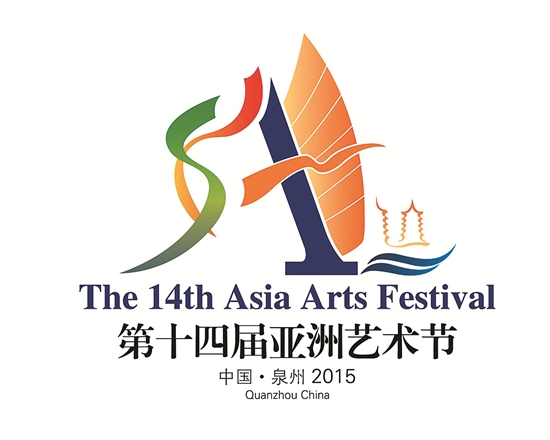 The logo of the 14th Asia Arts Festival features a combination of a sailing vessel, sea waves and the cultural landmark Kaiyuan Temple Pagoda in Quanzhou. [Photo/Culturalink.gov.cn]
The 14th Asia Arts Festival, which will formally kick off in November in Quanzhou, the largest city in southeastern Fujian province, unveiled its logo and mascot on Monday.
Selected from 517 entries, the logo was co-designed by the Fine Art and Design College of Quanzhou Normal University and Guangzhou Paige Culture Development Limited Company. It includes a combination of sea waves and a sailing vessel, symbolizing Quanzhou as the starting point of the Maritime Silk Road, as well Kaiyuan Temple Pagoda, one of the city's cultural landmarks.
The mast of the vessel is shaped like the number "1", and forms the number "4" with a colored ribbon on it, symbolizing the 14th session of the Asia Arts Festival. The dominant hue of the logo is orange, which offers a warm feeling. It implies that Quanzhou locals will respond with enthusiasm to guests from all over Asia during the festival.
Huang Jian, head of the Fine Art and Design College, told local media that he felt very happy that the college's professors and students design was selected.
"Asian Art Festival is a major event in Quanzhou. As a local university, it is our great honor to give full play in designing the logo for the festival. Many teachers and students in our college submitted their works," he said.