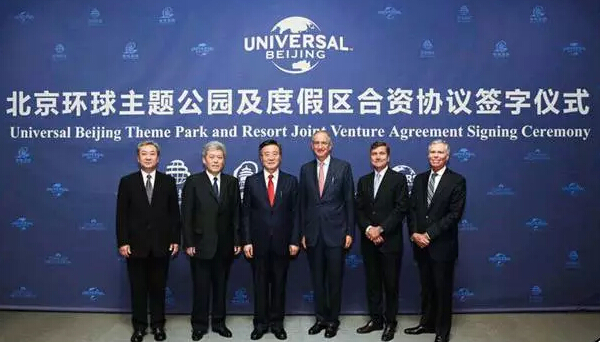 Officials from China and the US take a group photo at the joint venture agreement signing ceremony. [Photo/CCTV.com]
Chinese President Xi Jinping recently paid a state visit to the US, but cultural exchanges between the two countries are an important backdrop to the diplomatic ones. For example, Universal Studios has just contracted to build a theme park in Beijing.
Universal Studios' theme parks are a must-see for tourists from all over the world who want to have an ultimate Hollywood experience. And soon, visitors who come to Beijing can experience that too, with a Chinese twist.
The park is expected to open in 2019 and will be the world's largest. Traditional and modern Chinese culture elements have been incorporated in the planning. Cultural exchanges between the two countries have been active in a variety of areas in recent years.
New York's Metropolitan Museum of Art brought more than 100 art pieces from its collection to display at the National Museum of China in February of 2013. The exhibit covered a time span of more than 3,000 years and was the first time that pieces from the Met had been showcased in China.
Soprano Renee Fleming is no stranger to China. The Grammy winner known as "the people's diva" brought her international tour to the National Centre for the Performing Arts in Beijing in May of 2013. Fleming has performed in China a number of times and she says she's amazed by her Chinese fans' passion for classical music.
Fleming said:"As was everything here, even in the few years I've been coming, one sees tremendous growth and change in every aspect of life. I feel that everyone's taste has developed already. This love and desire to excel in classical music is hopefully growing."
And vice versa: Chinese artists have also brought their performances to the United States. One of the biggest events was the US tour in August of 2014 that marked the 120th anniversary of the birth of late Peking Opera maestro Mei Lanfang. The tour by a troupe of nearly 90 singers, actors and musicians from the Beijing Peking Opera Theater performed in several American cities.
"I never realized how complex the rhythms are. And the actors and the orchestra collaborating. It's so much fun to watch. I really enjoy it."
"It's so beautiful. I feel like it's an art form, even to get dressed and put the make-up on."