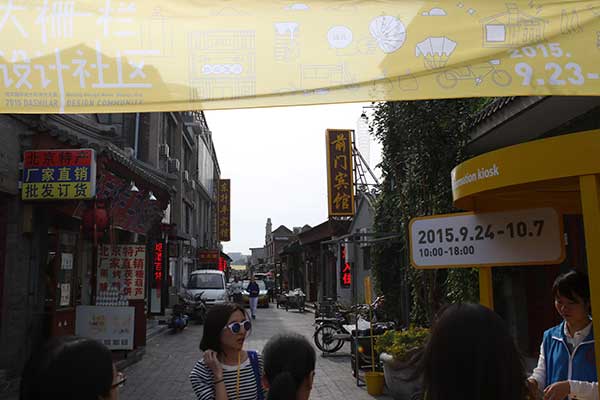 In Dashilar, designers, architects and urban planners have spent years exploring organic ways to revitalize the hutong area.[Photo by Wang Zhuangfei/China Daily] 
This weeklong festival celebrates the joys-and the practical side-of creativity, Sun Yuanqing reports.
It might be a headache to find a place to hide from all the crowds during the coming national holidays. But one of the answers could be Beijing Design Week, or BJDW, the annual week-long carnival celebrating all things design-related.
This year's event covers seven key sections, from professional platforms for design entrepreneurs to activities targeted at the general public all over the city, according to the organizing committee.
This year, it has even reached out to Tianjin and Hebei province, echoing the national strategy to integrate the three areas in economic development.
The event kicked off with Design Night on Sept 26, a night of gathering and celebrating for the local and international design community at the China Millennium Monument. The BJDW Design Awards this year went to China's high-speed railway for its "fusion of grand design and high-tech", out of a pool of 10 candidates that included the APEC leaders' attire, Taobao.com and the National Center for the Performing Arts.
The 2015 Beijing Design Fair, hosted by BJDW and the National Base for International Cultural Trade, continues through Oct 7 at the Beijing Tianzhu Free Trade Zone Culture Free Port, as a B2B platform for international design trade.