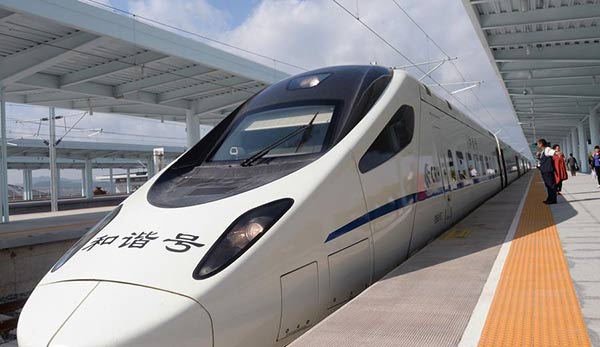 High-speed rail in China [Photo/Xinhua]
China's high-speed rail received the "Classic Design Award" at the opening ceremony of Beijing International Design Week Saturday night.
The high-speed rail stood out from 10 nominees including Great Hall of the People, the restoration project of Qianshou Guanyin Buddhist statue among Dazu Rock Carvings, the "new Chinese-style outfit" for this year's APEC suits, Yanqi Lake International Convention Center, China's manned space flight project, National Centre for the Performing Arts, the giant e-commerce platform Taobao, Wuzhen in Zhejiang province and Dujiangyan.
The "Classic Design Award", highest honor of BJDW, is given to those who've already implemented and used projects that exert a far-reaching influence on China's social progress, cultural development, industry promotion and urban construction. China Grand Canal Protective Restoration Design Project won the 2014 prize.
According to Zeng Hui, deputy director of the Beijing Design Week organizing committee office, the high-speed rail got the award as it fuses grand design with high technology. Hui adds that it has brought much convenience to our lives and improved the well-being of people.
Co-hosted by the Ministry of Education, Ministry of Culture, Ministry of Science and Technology and the Beijing Municipal Government, the grand opening took place at China Millennium Monument in Beijing, on Sept 26, with specialists and designers from more than 20 countries.