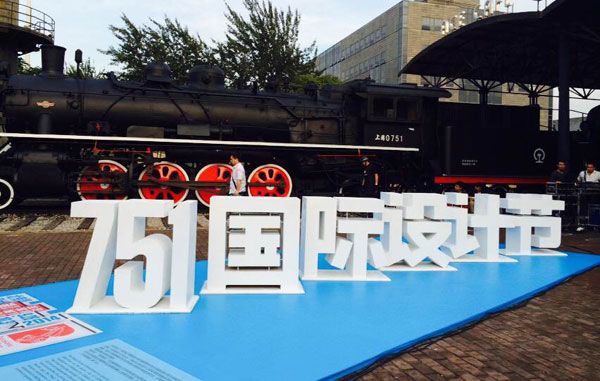 The 751 Design Festival is held in Beijing from Sep 27 to Oct 3, bringing Chinese and foreign designers together. [Photo by Jiang Wanjuan/chinadaily.com.cn]
The 751 Beijing Design Festival of 2014 kicked off on Friday evening in Beijing, creating a one-week platform for Chinese and foreign designers to exhibit, trade and communicate.
As one of the most important projects at Beijing Design Week, this year's 751 Beijing Design Festival focuses on intelligent design, sustainable design, as well as folk handicrafts, such as the recycling of old things, and Guizhou's traditional hand-painted indigo wax printing.
Until October 3, over 40 exhibitions will be held in the areas of architecture, home design, and new material from designers and agencies from countries including Spain, Poland, Germany, Korea and France, at several locations in 751 D-Park.
Visitors are encouraged to interact with the designers in creative forums, and hands-on lessons to feel the beauty of folk handicrafts and different lifestyles of different countries' cultures.
Situated on the grounds of a former power plant, 751 D-Park has become a major design scene in Beijing, housing interior design studios, furniture showrooms and fashion firms, beside its neighboring 798 Arts Zone.
The 751 and 798 areas have been the major location of Beijing Design Week since its inception in 2011. Each year, it invites a foreign guest city to showcase its designs in many aspects. After featuring London, Milan, and Amsterdam in past events, this year's visitors will have a comprehensive undertanding of Barcelona in the 3,500-square-meter Barcelona Pavilion at 751 D-Park.
"Barcelona is a city of culture, knowledge, creativity and innovation that is an international reference," said Xavier Trias, Mayor of Barcelona. "This is an ideal occasion for presenting, sharing and learning from the best international trends."
The Barcelona Magic Horse, a gigantic art installation created to celebrate the Year of the Horse in the Chinese Zodiac, will tour the 751 D-Park area with live music and performances by Barcelona artists until October 3. Good luck catching it!