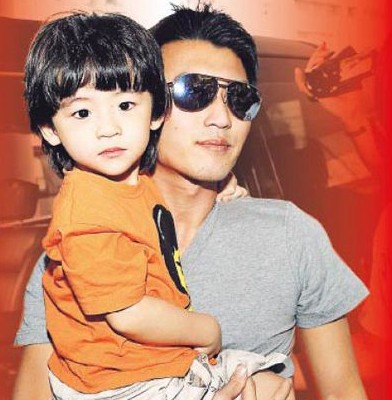 Chinese actor Nicholas Tse with son Lucas Tse. [Photo/China.org.cn]
A series of recent incidents has put the focus on the role of fathers in children's lives.
Hong Kong
actress and singer Cecilia Cheung has accused her former husband,
Nicholas Tse
, also a Hong Kong-based actor, of spending very little time with their two sons. And action star
Jackie Chan
, known for his social responsibility, was unaware that his son had been doing drugs for eight years until he was detained.
In China, however, the failure to fulfill responsibilities is not limited to celebrity fathers. As an expert on children's upbringing, I know that 90 percent of the parents who make it to parents' meetings are mothers. Also, nine of the 10 callers to the hotline of my magazine on child and adolescent studies are mothers.
A little girl's description of her father exposes Chinese fathers' ignorance about their children's growth: "I always thought that girls are given birth by their mothers and boys by their fathers until my aunt had a boy yesterday. If all children are brought into this world by mothers then what do we need fathers for?
"My dad goes to work early in the morning and comes back home late at night. Once he is home, he simply sits on the couch watching TV. He never brings me gifts like my mother does after a business trip. I feel like a year has passed if my mother goes away for even one day. Yet I don't feel anything at all when my father is away for months."