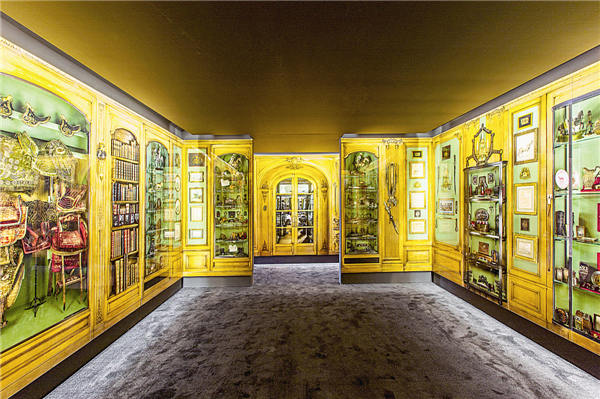 A recreation of Emile Hermes' study; Photos provided to Shanghai Star
The luxury brand from France has had a long association with horses, and the history is beautifully captured in their new exhibition. Zhang Kun reports.
From ancient harnesses to artworks about horses, the opening exhibition at the new Hermes Maison on Huaihai Road Middle tells the story of the graceful creature and its connection with the French luxury brand spanning more than 170 years.
A video installation will take viewers on a ride in a horse drawn carriage from the Eiffel Tower to a Ferris wheel in downtown Paris. Sitting in the dark room, surrounded by the clatter of the bells and clippity clop of the horse hooves, the lights and shadows seem so real that you can almost smell the scent of Paris in the cool evening.
Hermes has opened five "maisons" all over the world. The latest one is in Shanghai, and opened on Sept 12 in a historical building.
Walking up the white, winding staircase to the fourth floor, the visitor enters the exhibition that spans 210-square-meters.
Curator Philippe Dumas, an artist and a member of the fifth generation of the Hermes family, has presented a selection of works from the Emile Hermes' collection, alongside objects from the Inner Mongolia autonomous region's Hohhot Museum, objects from special order ateliers at Hermes, and an array of other contemporary artworks.