Student of the universe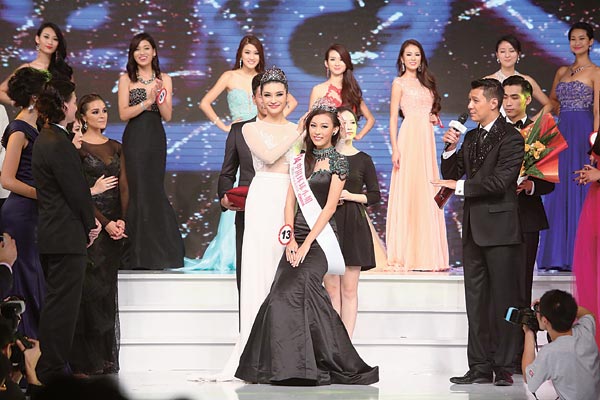 Fit for a queen: Xu Naiqing receives her Miss Universe China crown from 2013's winner, Jin Ye. Photos provided to Shanghai Star
A few months ago, Xu Naiqing was agonizing over which classes to take at university, now she is juggling her studies with the role of Miss Universe, China. Xu Junqian chats with the newly crowned beauty queen.
In July, Xu Naiqing was just another sophomore at Shanghai Donghua University trying to decide which classes to take next semester. Like all students, she spent hours agonizing between classes that suit her personal interests and those in which she may achieve good grades.
On the night of Sept 13, however, the 19-year-old native of Luoyang, Henan province, stepped out of her student attire to be crowned Miss Universe China, 2014 at Shangri-La Pudong hotel in Shanghai, swapping school books for the popping of champagne corks.
Xu is the youngest Miss China to take the crown since the world's most famous beauty pageant was introduced into China in 2002.
"It's so surreal. This morning when I woke up, the first thing I asked my father was, 'is it a dream? Did I became Miss Universe China? Did it actually happen?'" Xu told Shanghai Star, joking she felt like an ugly duckling turned into a swan.
Standing at 1.78 meters tall, with delicate features, the part-time model who has been gracing catwalks since the age of 13, is far from an "ugly duckling".
Xu was chosen by Yue-sai Kan, the national director of Miss Universe China, from hundreds of students and models and went on to be one of the 15 finalists in the competition.