Student of the universe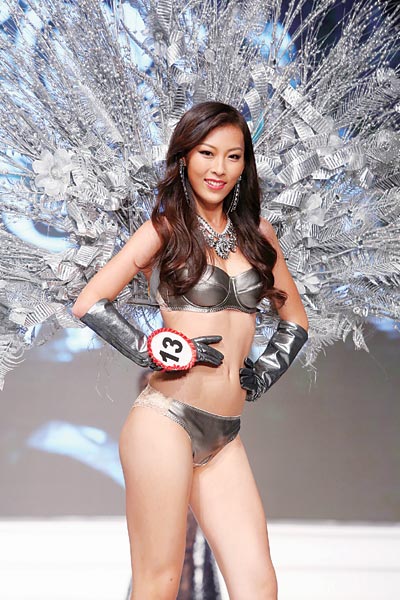 Peacock: Xu Naiqing struts her stuff. Photo provided to Shanghai Star
On the night of the final, Xu strutted across the stage in a tight, black fishtail dress, decorated with emerald sequins. She later dazzled the crowd wearing a silver bikini.
But the judges and audience agree, that it was her brilliant answers during the Q&A session that tipped the odds in her favor, as "beauty might be the last factor at a national beauty pageant filled with beautiful women from all over China," Yue-sai Kan says.
Xu, the only child of a middle-class family, (her father is an engineer and her mother a bank clerk) was asked how she would respond to criticisms that accuse beauty pageants of only being skin deep.
"If I were chosen as Miss Universe China, I think I would be the best example of how positively a beauty pageant can impact a girl," she said.
The panel of six judges included Chinese entertainment tycoon Wang Zhonglei, Olivia Culpo who was the winner of Miss Universe 2012, and Zhuang Yong, China's first gold medal winner in swimming and the founder of Tulip Mega Media Group, the largest outdoor billboard company in the country.
Hu Yanliang from Beijing won second place while Peng Muyi from Hunan province came in third at the three-hour-long competition. The event also included Kan's annual charity dinner, which has raised 5 million yuan this year. The money will be used for operations for children with cleft lips.
As Miss Universe China, Xu will receive a 3.5-million-yuan diamond and gold tiara, sponsored by Luk Fook Jewellery, and tickets to some of the world's most exclusive parties, galas and dinners, thanks to Kan, known as "the Chinese Oprah".
When asked what she thinks helped her win the crown, Xu becomes very serious. "I think I am the person that if I want attention from everyone in the audience, I will strive by every means to get it. And usually, I can get it."
The dilemma now for the fashion design and display major is whether to suspend her studies completely to prepare for the global final in December in the United States, or juggle her classes with lessons from the language teachers and fitness coaches Kan has hired for her.