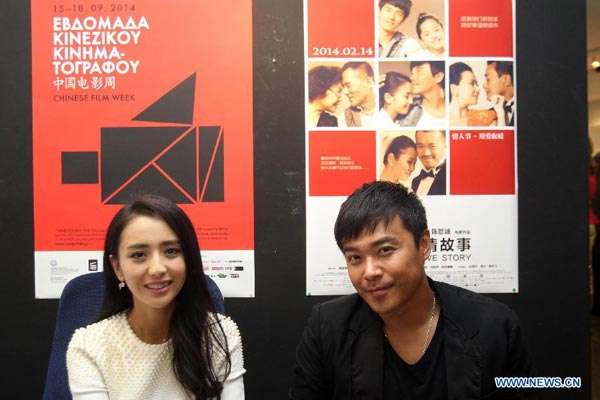 Filmdirector of "the Beijing Love Story" Chen Sicheng (R) and leading actress of the film Tong Liya attend the opening ceremony of the Chinese Film Week in Athens, capital of Greece, on Sept 15, 2014. The first Chinese Film Week in Greece kicked off in Athens on Monday, which aimed to introduce wider Greek audiences to modern Chinese movies. [Photo/Xinhua]
ATHENS -- The first Chinese Film Week kicked off in Athens, which aimed to introduce wider Greek audiences to modern China and bring the two peoples closer.
During the event hosted at the Greek Film Archive foundation over the next three days moviegoers will have the opportunity to discover China through the screenings of a total of eight films covering a broad range of genres.
The movies chosen for the event were released during the last three years and are screened with Greek subtitles.
"The Chinese Film Week is taking place at a period of dynamic development of our bilateral ties with China which we wish to strengthen at the Culture sector as well which is the most significant for us," Greek Culture Deputy Minister Angela Gerekou said, inaugurating the festival.
"I believe the success of the Chinese Film Week will bring the two countries closer. With common will and effort we will deepen the overall strategic partnership between the two nations," added Tong Gang, Deputy Minister of the State Administration of Press, Publication, Radio, Film and Television of the People's Republic of China which co-organized the event.
Addressing the ceremony Chinese Ambassador to Greece Zou Xiaoli stressed that cinema holds a key role in understanding each other among peoples across the world.