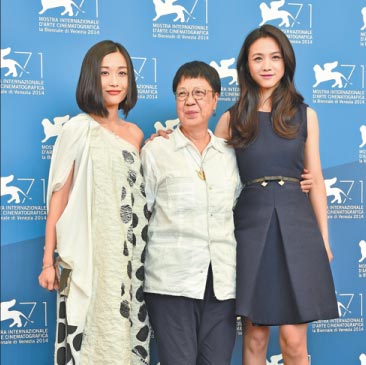 Director Ann Hui (center) poses with actresses Tian Yuan (left) and Tang Wei during the 71st Venice International Film Festival on Sept 6. [Photo/AFP]
Hong Kong
director Ann Hui believes Xiao Hong is more than just an
art
ist.
"She is an artist, and I have always wanted to make a film about an artist. But I dealt with her more like an ordinary woman," Hui told Xinhua in an interview as her new film The Golden Era closed the Venice International Film Festival on Sept 14.
The Golden Era is an unconventional biopic of Xiao Hong, a female writer who is well known, yet about whom many details remain obscure. The film pieces together episodes from her writings with impressions and recollections from other writers and friends.
Xiao Hong lived through the most turbulent times in modern Chinese history. Her birth in 1911 in Heilongjiang province coincided with the country's shift from dynastic imperial rule to a modern republic. So she grew up in an environment that was open to foreign cultural influences for the first time in centuries.
Much of her stormy life was spent with fellow writers, including Lu Xun, who's widely recognized as China's greatest modern novelist and in whom she found a considerate surrogate father. After escaping the Japanese invasion of China, Xiao died of tuberculosis in Hong Kong at the age of 31.
"I was fascinated by her lifestyle and efforts in art. She had a revolutionary attitude toward human relations, "Hui says.
"Xiao Hong turned against her family and had an intense love life. If we look at it today, what she did has become the norm for modern women.
"Xiao Hong was avant-garde. She believed in writing for the sake of literature and not for any kind of propaganda. This was a very different idea from the preferred attitude of that time, when a lot of intellectuals wanted to write only to foster the anti-Japanese cause. She was sympathetic to them but was still convinced that writing is pure literature."
Hui explains her film was mostly shot on real locations, including old, preserved buildings in different places of China, such as Harbin, Wuhan and Shanghai.
"Unfortunately, I could not find a single building left in Hong Kong from those years," she says.
"We used an extreme format that is very experimental to make the story even more interesting to the audience."
Different subjects and faces have fascinated the director since she started her career in the 1970s, she says. "At the beginning I was very attracted by melodrama, suspense movies, violence, kung fu movies. Then, in the middle, I began to like very static movies about thought, which had to do with how I felt and changed personally," she explains.
"Now I am interested in how people behave and live their own lives, especially when they are very ordinary. For this reason, despite the historical and intellectual background, I think this movie is not difficult for the general audience to understand. Human nature, love and betrayal are common themes all over the world."
Hui was born in 1947 in Harbin to a Chinese father and Japanese mother. She studied for two years at London Film School after graduating with a Hong Kong University degree in comparative literature. She is the only director to have won the Best Director prize at the Hong Kong Film Awards four times.