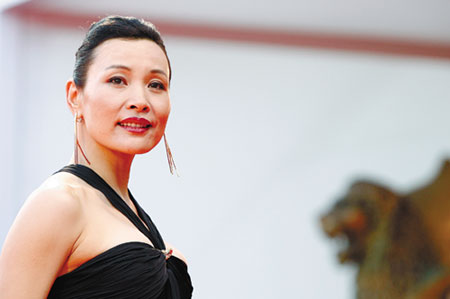 Actress Joan Chen at the Cinema Palace in Venice for the Venice International Film Festival earlier. She has been chosen for this year's festival as a jury member for the main competition section. Stefano Rellandini / Reuters
Chinese elements are omnipresent at the 71st Venice International Film Festival, with internationally recognized actress and director on the jury and Chinese films both screening and competing for the sought-after Golden Lion.
Joan Chen, who became famous in the West when she played the female lead in The Last Emperor (1987), has been chosen for the jury of the main competition. This is the second time this Hollywood veteran from China has been a judge at one of the big three European film festivals. She was on the Berlin Film Festival jury in 1995.
Chen revealed during a recent interview with Tencent.com that she was invited last year to join the jury led by Bernardo Bertolucci, director of The Last Emperor, but failed to complete the trip due to her full schedule.
"I've come to the festival many times," she said. "But it feels different being a judge than bringing my own works. I won't have that much pressure and will be able to enjoy movies of high quality."