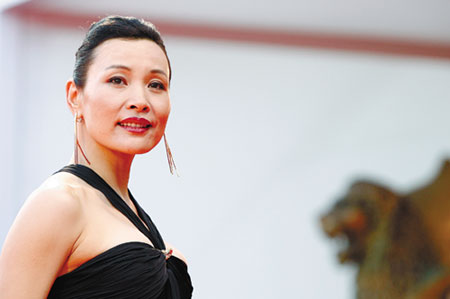 Actress Joan Chen at the Cinema Palace in Venice for the Venice International Film Festival earlier. She has been chosen for this year's festival as a jury member for the main competition section. Stefano Rellandini / Reuters
Has the inclusion of Chinese judges at global film festivals been a boost to the country's growing movie industry? The results are suggestive, but experts have mixed views, Wang Kaihao reports.
When the organizing committee of the 71st Venice International Film Festival, which will open on Aug 27, recently announced its jury list, Chinese people were glad but unsurprised to see familiar faces again appointed to the panel.
Joan Chen, who became famous in the West when she played the female lead in The Last Emperor (1987), has been chosen for the jury of the main competition. This is the second time this Hollywood veteran from China has been a judge at one of the big three European film festivals. She was on the Berlin Film Festival jury in 1995.
Chen revealed during a recent interview with Tencent.com that she was invited last year to join the jury led by Bernardo Bertolucci, director of The Last Emperor, but failed to complete the trip due to her full schedule.
"I've come to the festival many times," she said. "But it feels different being a judge than bringing my own works. I won't have that much pressure and will be able to enjoy movies of high quality."