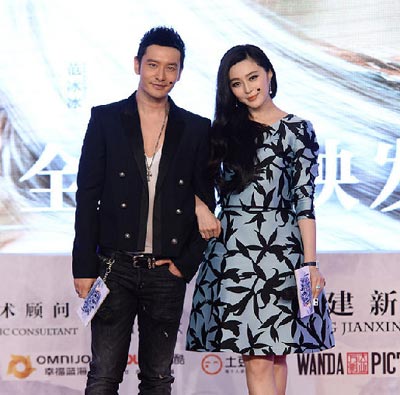 Cast members Fan Bingbing and Huang Xiaoming pose at the premiere of the movie "The White Haired Witch of Lunar Kingdom" in Beijing, July 28, 2014. [Photo/Xinhua]
Last week's Chinese box office was again topped by a domestic production, following the success of "The Continent" and "Tiny Times 3" in the previous week.
"The White Haired Witch of Lunar Kingdom," a martial arts fantasy, grossed 226 million yuan ($36.63 million) between its opening day of July 31 and Aug 3, according to the weekly box office report from China Film News on Tuesday.
In the previous week from July 21 to 27, "The Continent," a romantic comedy by writer-turned-director Han Han, was the highest-earning movie, taking about 300.8 million yuan (about $48.4 million) at the box office.
Last week, "The Continent" came in second, with 218 million yuan in weekly box office. It has taken 518 million yuan since its debut on July 24.
Last week's third place was taken by "Girls," a romantic drama directed by Hong Kong director Barbara Wong, known for her bold interpretation of sex and relationships from a female perspective.
The fourth was Beijing ghost tale "The House That Never Dies," which gained 61 million yuan last week.
"Brick Mansions," starring late actor Paul Walker, came in in fifth place and has gained 48.8 million yuan since its debut on Aug 1.
About 23.3 million people went to cinemas in China last week and produced 797 million yuan of box office nationwide, a notable increase of 43 percent over the same time last year.
The market was helped last week by Qixi, or "Chinese Valentine's Day," falling on Saturday. Saturday's box office alone reached 246 million yuan.
Qixi is celebrated on the seventh day of the seventh month on the Lunar calendar.