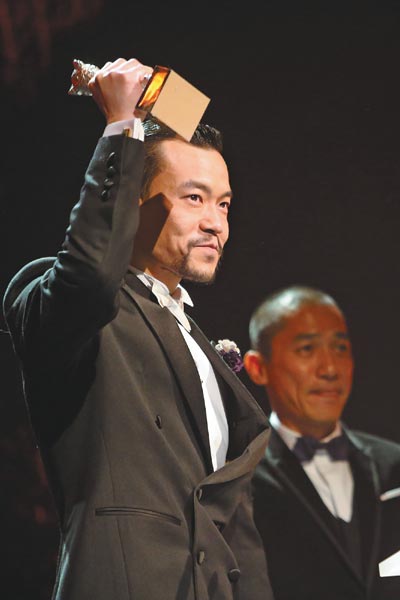 Liao Fan becomes the first Chinese actor to win the Silver Bear for Best Actor for Black Coal, Thin Ice at the 64th Berlin International Film Festival on Saturday. The film also took home the award for best film at the festival. Photo by Zhang Fan / Xinhua
Although China has overtaken Japan to become the world's second-largest film market after the United States, Hollywood productions continue to draw global filmgoers. The situation is forcing Chinese filmmakers, more than ever before, to ask: How can homegrown films influence audiences abroad?
After India and the United States, China makes the largest number of movies per year. An international communication committee tasked with engaging with the world film community, and Hollywood in particular, was established by the China Film Association on July 29. It emerged from the idea that Chinese movies need to be made more relevant to foreigners.
Kang Jianmin, who is vice-chairman of the new committee, says the panel was founded because Chinese cinema is seen to be lagging behind some countries in creativity, financing and marketing.
According to the China Film Association's secretary-general Rao Shuguang, in the coming years, the committee will seek to find people from business and academic circles to help promote Chinese movies overseas.
However, the success of basketball star Yao Ming and separately that of info-tech industry leader Baidu has proved that the rise of an icon or an industry requires not just professional efforts by the concerned individual or company but also government support for their roles, says Dan Mintz, CEO of DMG entertainment group.
As the first Chinese entertainment and media company to have co-produced Hollywood movies, such as Looper, Transcendence and Iron Man 3, DMG will serve as the committee's exclusive business partner, he says.