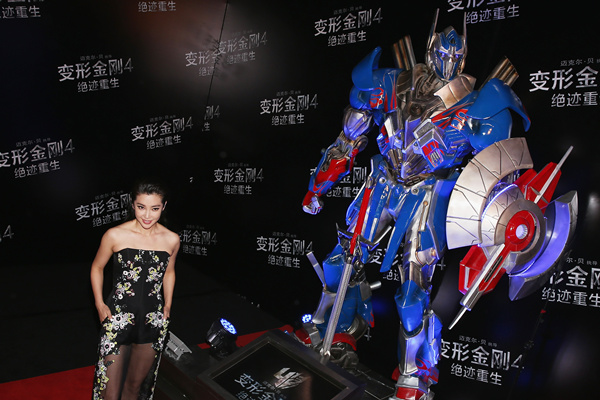 Li Bingbing arrives on the red carpet for the Beijing premiere of Transformers 4 in June. Chinese faces in Hollywood blockbusters give the local audience a feeling of familiarity. [Photo/Getty Images]
The placement of Chinese products in Hollywood blockbusters is a growing business, Liu Wei and Wong Lok Yee meet the woman who is putting brands on the silver screen.
When Transformers 4 screened in China, audiences were surprised - and often cynical - when they saw Chinese brand products embedded in the movie along with Chinese faces and landmarks.
"As long as you are not vilifying China - be it a brand, a place or an actor - it gives the audience a feeling of familiarity. It is a sign of a culture becoming stronger," argues Liu Siru, founder and CEO of Filmworks China, after waves of online mockery saying the Chinese cameo roles added nothing to the storyline.
Filmworks, a Beijing-based marketing firm that promotes movies and merchandise in China, arranged the first Chinese product placement in a Hollywood film.
Liu's six years working for the US motion picture giants enabled her company to connect Chinese brands with Hollywood filmmakers.
She began building a network of contacts and learned about moviemaking when she worked as an associate producer on Kung Fu Hustle, a Hong Kong action comedy co-produced and distributed by Columbia Pictures.
The MBA and journalism graduate left the US for China in 2006 and worked at Orange Sky Golden Harvest, a film production, distribution and exhibition company based in Hong Kong.
She says she had no intention of working in product placement, but "when there's a need on both sides, it's quite silly not to take the opportunity".
Her opening came when she was approached by a friend who wanted to place Metersbonwe fashion products in Transformers 2.
Liu knew the filmmaker and helped with the negotiations, enabling the brand logo to feature in the science-fiction hit, marking the first appearance of a Chinese brand in a Hollywood blockbuster.
She set up Filmworks in2010 and started working on the placement of Chinese brands in Transformers 3, when the company was only a team of four.
Product placement normally starts with script analysis, when Filmworks identifies what kinds of products could be placed in which scenes before approaching clients and asking if they will agree to the placements.
"But this rarely happens in Hollywood blockbusters because only a handful of people can read the script," says Liu.
For major Hollywood films, Liu goes to the set and reads the script there - and is prohibited from taking notes.