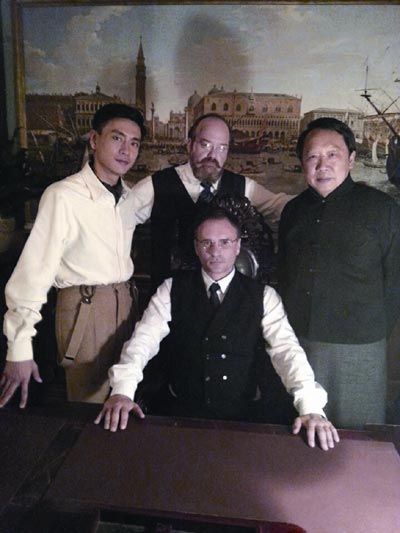 Drago Lazetich (front) poses with other cast members of the Chinese TV drama Detective Yang Jinbang. Lazetich plays the head judge on the show. Photo provided to China Daily
Hong Kong continues to be a movie magnet, but foreign actors and filmmakers with an eye on the mainland hope to cash in on the action as it moves to China's financial hub. Matt Hodges reports.
Drago Lazetich is among a growing stream of European and American actors who are banking on Shanghai's motion picture industry becoming a top regional if not global player as domestic movies grow in stature, co-productions proliferate and new infrastructure takes root.
Shanghai DreamWorks Animation, for example, is building a $2.4-billion entertainment complex in the city in conjunction with Chinese investment fund CMC Capital Partners. The project is already being touted as the next big thing after New York's Broadway and London's West End.
This will mean more jobs for foreign actors, screenwriters, directors of photography and even visual effects' artists as fresh opportunities arise and entrenched attitudes change, expats say.
"I thought for sure before I came to China they'd have me playing bad guys, as a foreigner, but I can count the number of those roles on one hand," says Lazetich, who claims to have "co-starred" in 50 films in China, although the majority did not involve speaking roles.
His latest role as a Roman gladiator in Jackie Chan's Dragon Blade saw him spend three weeks filming fighting scenes in the Gobi desert.
"I've been a priest, a general for the Flying Tigers (squadrons of American pilots who fought for the Chinese Air Force in World War II), a US spy," says the hulking actor, who studied for a time at the University of California, Los Angeles, and has a martial-arts background. He is wearing a black Warner Hollywood Studios bomber jacket and black Reebok Pump sneakers when we meet at a coffee shop downtown.