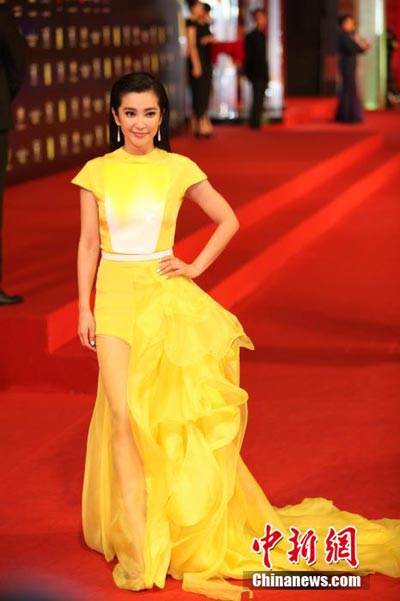 Chinese actress Li Bingbing attends the closing ceremony of Shanghai International Film Festival in Shanghai on June 22, 2014. [Photo/Chinanews.com]
Internet companies have become the latest change agents in China's booming film industry.
At the 17th Shanghai Film Festival which ended on June 22, the buzzword on everyone's lips was BAT, referring to Baidu, Alibaba and Tencent, the three leading Internet companies in China.
Baidu is the largest Chinese search engine, Alibaba owns China's largest online business platform Taobao, and Tencent has multiple products widely used by netizens, such as social networking and communication service providers WeChat and QQ.
The online giants are now turning to filmmaking. Tencent vice-president Sun Zhonghuai announced at SIFF that the company will invest in six films, including Dragon Blade, starring Jackie Chan, and Zhong Kui: Snow Girl and Dark Crystal, a fantasy blockbuster starring Chinese A-lister Chen Kun. Sun would not reveal the exact sum of money, but Chan's film has a budget of $65 million.
Alibaba launched the second round of fund raising on Yulebao, a crowd funding service for films, on June 13. In less than 24 hours the funding target of $14.6 million was met by 160,000 purchasers, who have collectively financed five films.
Baidu has set up a venture based in Los Angeles, the first project of which will be Kong, an animated picture adapted from the Chinese literary classic Journey to the West.