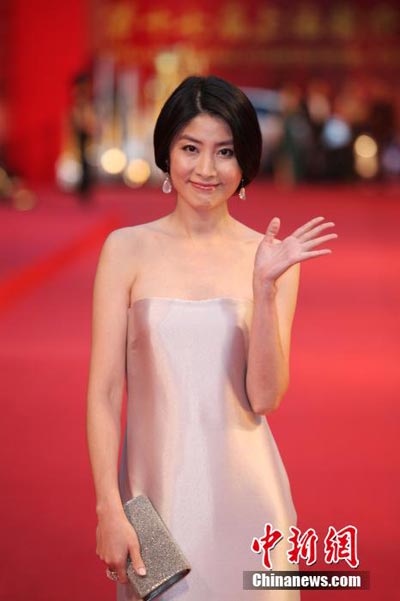 Chinese singer Kelly Chan attends the closing ceremony of Shanghai International Film Festival in Shanghai on June 22, 2014. [Photo/Chinanews.com]
But the Internet companies are more ambitious than to simply broadcast films, and moguls from traditional film companies are taking notice.
Yu Dong, the chairman of Bona Films, a NASDAQ-listed studio and distributor which also owns theaters, claims that "all the film companies will work for BAT in the future".
"As the number of big screens increases dramatically, small screens are developing with equal speed," Yu says. "Mobile Internet, iPads and the sitting room have become popular ways to watch films. Traditional film companies are facing severe challenges."
Yu's words were echoed by Ren Zhonglun, chairman of Shanghai Film Group.
"Today's filmgoers are younger than before," he says. "They live online, as what we call as 'aboriginals on the Internet'. The Internet companies have innate advantages in studying and understanding their preference."
LeVision, the film arm of Internet company LeTV, has a special team studying data collected from various online communities. The analysis of the fanbase of Tiny Times, a 2013 Chinese film based on young writer Guo Jingming's novel, has contributed significantly to the film's success, says CEO Zhang Zhao.
"The traditional model is, we make this film and we want you to see it, but in future the model will be, we find what you want to see and we make it for you," Zhang says. "It is totally possible that netizens will be involved in story development (of movies) in the future."
Zhu from Youku believes that the Internet is also an excellent platform for rising actors and directors. "By online short films or drama series we can easily collect feedback from viewers on new actors and filmmakers," Zhu says. "From our platform we have easy access to find what kind of films are more popular than others, who are the favorite actors among different age groups, what is discussed the most by viewers."