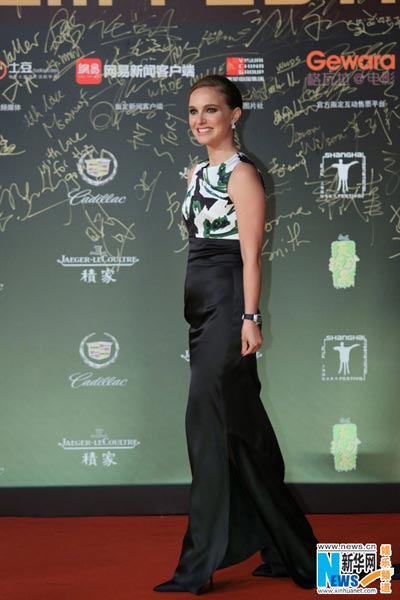 American actress Natalie Portman attends the closing ceremony of Shanghai International Film Festival in Shanghai on June 22, 2014. [Photo/ent.news.cn]
Many other Internet companies have also entered the film industry, providing diversified products and services, including making films available to online viewers and discounted tickets. Gewara, an online ticket-selling website, sold 1 billion yuan ($158 million) worth of film tickets last year, more than many traditional theater chains.
The biggest impact these Internet companies will have on the industry will be their influence in clamping down on piracy, according to Sun from Tencent.
"People are now more used to paying to watch a film online," he says. "With more and more video providing websites joining in, a reasonable pricing system for copyright has been set up."
Tencent releases a monthly package of more than 1,600 films on its website, priced at only 30 yuan, the cost of about five pirated films on DVD.
Youku.com, a leading video sharing website, has similar products.
"We are in fact eliminating pirated DVDs from the options available to viewers, because they will have easy and economic approaches to legitimate films of good quality," says Zhu Huilong, vice-president of Youku.com.
The online video sharing can expose a film to more viewers - China had 618 million netizens as of December 2013, according to China Internet Network Information Center.
"A film is usually screened in theaters for one month. It can be available on a video website seven or eight times longer," Zhu adds.