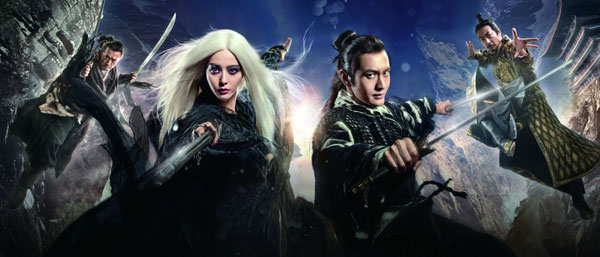 The White Haired Witch of Lunar Kingdom is set to lure viewers with its romantic story and dazzling visual effects.
A splashy 3-D mix of martial arts and romance aims to draw a record audience at theaters this weekend, Wang Kaihao reports.
To celebrate this Saturday's Qixi Festival, known as Chinese Valentine's Day, big screens in China will offer a gift for audiences: a touching romance epic.
A 3-D remake of wuxia (martial arts and chivalry) fantasy The White Haired Witch of Lunar Kingdom will be released on July 31-the most expensive film in this summer's Chinese market with a budget of about 100 million yuan ($16.2 million). It features two of the most popular Chinese movie stars, actor Huang Xiaoming and actress Fan Bingbing.
Set in the Ming Dynasty (1368-1644), there is a great love between these two, mixed with a demonic cult and a vendetta. This common theme in wuxia stories will hardly surprise the audience, though its supernatural elements may be thrilling.
Developed from a script by legendary Hong Kong novelist Liang Yusheng, filmmakers are well-aware of the many previous adaptations for both cinema and TV since the 1980s. Among them, the 1993 movie The Bride With White Hair was generally considered to be a classic.
"We definitely have something new," director Jacob Cheung says of the premiere of the new film. "The script was thoroughly changed 20 times to give it a fresh feeling. We even wrote a different ending from the original one."
Veteran Hong Kong director Cheung took full advantage of new technologies during filming and post-production. Special effects were used in more than 800 scenes.
His Hong Kong crew shines thanks to the hiring of kung fu movie guru Tsui Hark (as the art consultant) and award-winning art designer Tim Yip.
"The Western world is familiar with The Lord of the Rings. We will try to inform the world we have White Haired Witch in the East," he says, confident he can tell a story based on an uncommon fantasy topic in China's wuxia literature.