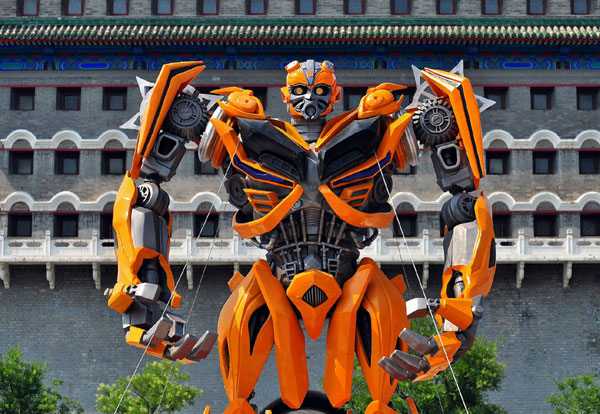 The Auto-Bots stand stalwart against the forces of evil on June 24, 2014, at a popular tourist spot on Qianmen Street in Beijing. The Auto-Bots attracted a wave of attention and pictures from Transformer fans and visiting tourists. [Photo/CRI]
BEIJING - "Transformers: Age of Extinction," the fourth installment in the robot movie franchise, earned 1.97 billion yuan (about $317.2 million) on the Chinese mainland in its month-long run ending July 27.
The movie's ticket sales were close to the average market forecast of 2 billion yuan, the Beijing News reported Tuesday.
The paper reported that "Transformers 4" ended its run as scheduled. Though distributors tried to extend its screening, the cost of doing so discouraged them, it added.
Box office earnings for the Hollywood blockbuster have eclipsed those of James Cameron's fantasy "Avatar" to become the all-time top-grossing film on the Chinese mainland.
The film has been breaking records in China since its debut on June 27, including the biggest opening and the most successful opening weekend in the country.