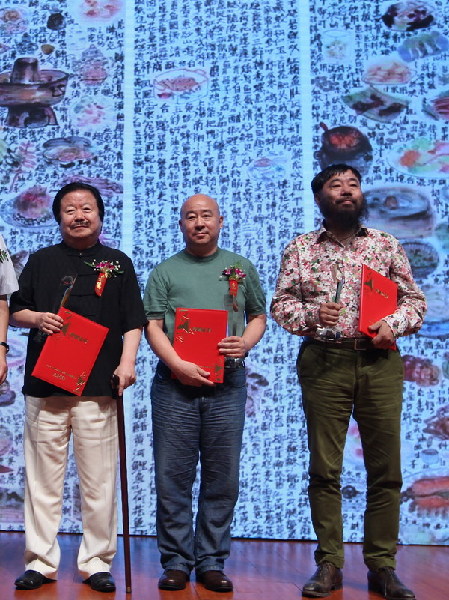 Artists Cui Ruzhuo(from left), Fan Yang and Li Jin are awarded for their contributions to the arts at the first China Art Market Award ceremony in Beijing on July 27. Photo provided to China Daily
A series of awards based on brand values in China's art market was given at the National Museum of China on July 27, rewarding auction houses, galleries, collectors and artists.
The awards were held for the first time by Collection Investment magazine. China Guardian and Poly International Auction Company were among those listed as the most influential auction houses.
Billionaire Liu Yiqian, who made headlines recently drinking tea from a "chicken cup" worth $36 million, was one of three art enthusiasts named collector of the year. Liu's private Long Museum was judged the country's art company with the most potential.
During a forum on China's art market before the ceremony, insiders said China's art market is not transparent and lacks integrity.
Gan Xuejun, president of Huachen Auctions, said that not only buyers but also artists and galleries fail to honor contracts, which results in many failed auctions and anxiety about the authenticity of artworks.
"Some galleries do not want their brand names present on the artworks. It's really ridiculous," Gan said, adding that foreign galleries put their name on every work they provide for auction houses to prove authenticity.