Green is the new black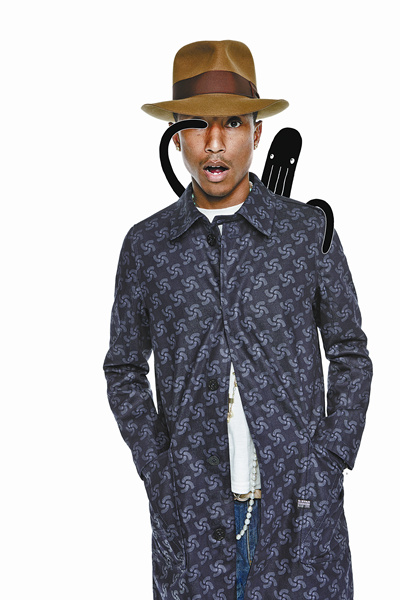 Pharrell Williams wears a coat from G-Star's Raw for the Oceans collection. Photo provided to China Daily
Because polyester makes up a huge chunk of the global fiber market, recycling it is gentler on the environment than producing brand-new polyester.
Recycling reduces the need for virgin raw materials and avoids the destruction of habitat resulting from the search for raw materials, says Lynda Grose, associate professor of fashion design at California College of the Arts and co-founder of Esprit's eco-fashion line.
Manufacturing polyester fiber from plastic bottles saves on nonrenewable energy (polyester comes from petroleum) and has a smaller impact on global warming, according to a 2010 paper on bottle-to-fiber recycling by faculty at Utrecht University.
Recycling also reduces the garbage that is sent to landfills and incinerators, disposal methods that contribute to soil, water and air pollution. Even the seas can benefit from plastic waste recycling. Each year, about 10 million tons of plastic end up in the sea, which trap or choke marine life and other animals, says Greenpeace International.
Denim brand G-Star will be launching a new collection in September, curated by music star Pharrell Williams, which incorporates fiber derived from ocean plastic bottles. The plastic used in the clothing collection - which includes jeans, T-shirts and caps - is gathered from Indonesian shores, where the amount of waste per kilometer of shoreline is the highest in the world, says a G-Star spokesperson.
While recycled polyester is preferable to the virgin fiber, researchers say that having this type of material is just one aspect of a garment's degree of eco-friendliness.
"In some cases with recycled polyester, bottles are shipped great distances from the point of collection to the processing facility, and that has an impact," says Timo Rissanen, assistant professor of fashion design and sustainability at Parsons The New School for Design and co-editor of Shaping Sustainable Fashion: Changing the Way We Make and Use Clothes.
"Reducing resource consumption is always preferable," he says.
In the "waste hierarchy", which ranks society's waste management options based on the most environmentally friendly, waste prevention and reduction can be found at the top of the pyramid. Under them are reusing, followed by recycling. Disposal is at the bottom of the heap.