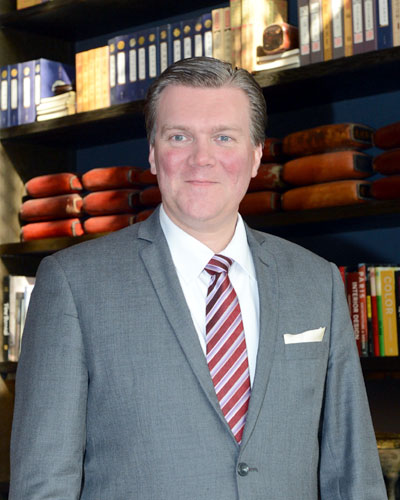 Martijn Van Der Valk heads PuYu Hotel and Spa in Wuhan. Provided to China Daily
Martijn Van Der Valk, general manger of the newly opened PuYu Hotel and Spa in Wuhan, is eager to set the trend in Central China's Hubei province.
His hotel is within walking distance of the East Lake, and the luxury hotel aims to provide business travelers and tourists with an urban resort, "a place where people can come to work and play at the same time, where business travel is not a necessary evil".
Sited within an imposing 29-story building, PuYu has kept a low profile compared to its competitors in the city. Instead of grandiose signs, it has a nameplate so subtly placed that people might not associate it with a luxury hotel.
Valk says that is because in Chinese, puyu means raw jade, which has a fine luster but not a glaring shine.
Though just steps away from busy roads, the hotel projects an ambiance of Xanadu straight out of the ancient Chinese myths.
A zigzag lane passes through a courtyard with a bamboo grove in the middle and a pool of lotus blossoms, both signature plants of Hubei province. A passage at the end of the courtyard leads to a gate that opens up to a huge lobby.
Standing in the center of the spacious lobby is a 35-meter-long bar made from two whole planks of ebony imported from South Africa. This is where guests are greeted with a welcome drink and are likely to be greeted by Valk.
"I told my staff, 'If you need me, don't come to my office. I won't be there. I will be in the lobby, talking to my guests,'" says Valk.
But for the lounge, guests might feel they had entered a museum with one wall of books with thousands of Chinese and English editions. Antiques and artifacts from the ancient state of Chu are displayed in the lobby.
Although he is proud of the hotel's design and decor, Valk says beauty must be more than that.
"People are attracted to beautiful hotels but they come for that only once when they come to have a look to satisfy their curiosity. We believe our guests come back because of our service."
To give an example, Valk points out that it's the attention to little details that wins guest loyalty.
"If you pick up a breakfast fork with a left hand, drink with a left hand, and we see you are left-handed, your chopsticks and wine glasses will be moved to the left from the right. And we will continue to serve you as a left-handed person.
"There is no better reward than to see your guests enjoy themselves."