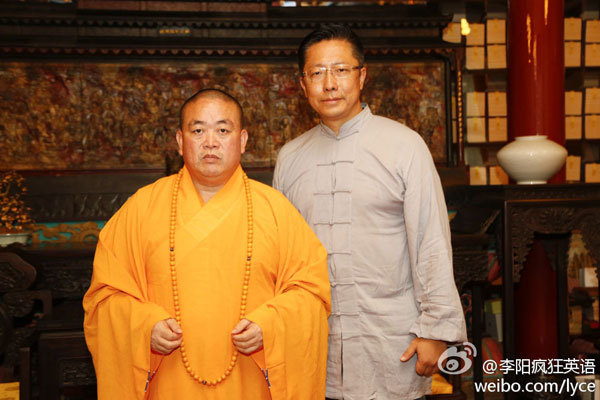 Li Yang poses for a photo with Shi Yongxin, the abbot of Shaolin Temple, on July 26, 2014. [Photo from Weibo account of Li Yang]
Celebrity Chinese educator Li Yang has converted to Buddhism at a renowned Buddhist temple following a domestic violence scandal that put the creator of the "Crazy English" method of language learning at the center of controversy.
Li became a layman disciple of Shi Yongxin, monastery head of the Shaolin Temple in central China's Henan province, shortly after the two had an arranged meeting on Saturday morning, Shi told Xinhua on Tuesday.
Li, now under the Buddhist name "Yanyi," confirmed the news on Tuesday morning on Sina Weibo, the Chinese equivalent of Twitter. The 45-year-old said he became a layman Buddhist because he "hopes to spread Chinese culture with the English language."
In a long post on Sina Weibo, Li said that he plans to build the world's biggest kung fu and language training center in Dengfeng City, where the Shaolin Temple is located. He also plans to hold an international English winter camp at the temple in 2015, he added.
"Crazy English" is a non-traditional method of teaching that uses shouting to memorize and practice the language.
Li has been successful since starting his English-teaching business in China in the early 1990s.
However, in August 2011, his then-wife, Kim Lee, accused him of beating her and posted pictures of her injuries on the Internet.
A week later, after the case had triggered a wave of condemnation, Li apologized but said that "it was just a quarrel between couples."
In February 2013, a Beijing court granted a divorce to the couple on the grounds of domestic abuse.
Li's conversion to Buddhism has drawn scathing comments from Chinese netizens.