China film 'goddess' to tie knot with her Korean director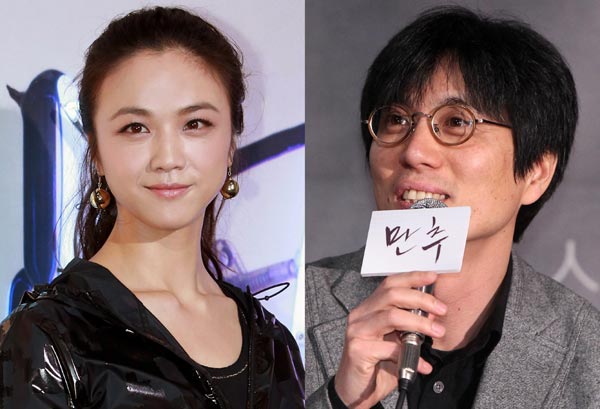 Chinese actress Tang Wei and her fiance Kim Tae-yong, a South Korean director. Photo provided to China Daily
The surprise announcement of a popular Chinese actress's engagement with a foreign
film
maker has elicited a wave of surprisingly tolerant responses from her Chinese fans.
Tang Wei, who gained fame through Ang Lee's Lust, Caution, is widely perceived as a "goddess" for those urban youth who love art and literature. She has maintained the persona as someone who not only possesses beauty but also intelligence-the kind of woman the young and educated generation can identify with.
In 2011, she appeared as the female lead in the South Korean film Late Autumn. She first met Kim Tae-yong, the South Korean director of the film, when shooting the picture in 2009. According to a statement from her management company, they became friends and later fell in love. The wedding is scheduled for this autumn.
The unusual thing is how Chinese netizens are responding to a cross-national marriage that involves a major Chinese celebrity. When Zhang Ziyi, another high-profile Chinese actress, started dating a foreign man five or six years ago, the online response in her home country was vehement. Many saw the affair not as a personal matter but as a sign of her betrayal.
In days past, the public, or a significant portion of it, harbored the belief that because they had invested emotionally in movie stars they had gained some kind of right to demand certain things from them. It became especially precarious for women as their choices of boyfriends or husbands were scrutinized for symbolism. If they preferred business tycoons, they would be seen as gold-diggers, and if they found love overseas, they would be seen as jilting the whole country, or all males of their home country.
But as cross-national marriages become more common, the attitude has changed dramatically. News of Tang's engagement was followed not by massive denunciation, but by blessings and an avalanche of humor. Since millions of Chinese girls have fallen head over heels in love with Kim Soo-hyun and Lee Min-ho, the two South Korean pop idols who swept China like a hurricane with their runaway television hits, it is only fair, many joked, that our "goddess" should return the favor by marrying one of their countrymen.
Tang has been a paragon of professionalism, even during times of adversity, and never tantalizes the press with tidbits of privacy or scandal.
She simply issued a news release-and ended up grabbing more attention than those tabloid gossips.