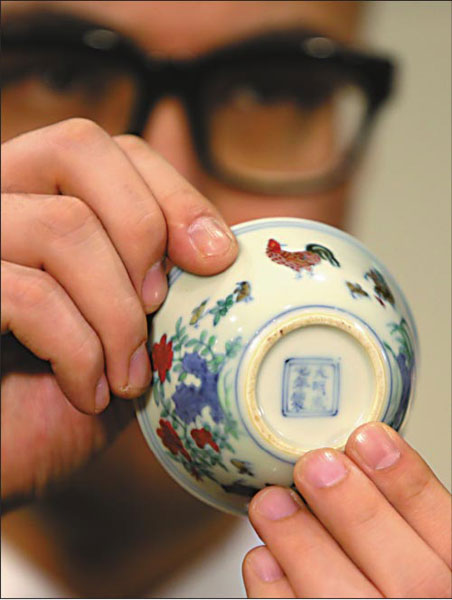 The Ming Dynasty (1368-1644) "chicken cup" that was sold for a record $36 million. [Photo/Xinhua]
An article posted on social media headlined "'Legal money laundering' behind the chicken cup" about the sale of an antique at $36 million has stirred up storm in a tea cup.
Art critic Jiang Yinfeng wrote that the auction of the cup, known as "chicken cup", could have been used to launder money. He gave an analysis of the possible techniques the buyer could have used to inflate the price of the piece and "how these techniques were perhaps employed" to take advantage of loopholes in the current legal system in a bid to launder the money without breaking the law through pledges and other financial vehicles.
The article also included analysis of possible ways money may have been laundered in other auctions, and named several auction houses and well-known antique works, including the Gongfu Tie, a calligraphy work whose authenticity was questioned after it was sold for $8.3 million in September 2013.
Offering a big sum for a counterfeit antique and manipulating the auction process by having the same bidder offer higher and higher prices for the same item at various auctions to artificially inflate the price, has long been a way for collectors and auction houses to make profit, Jiang's article said.