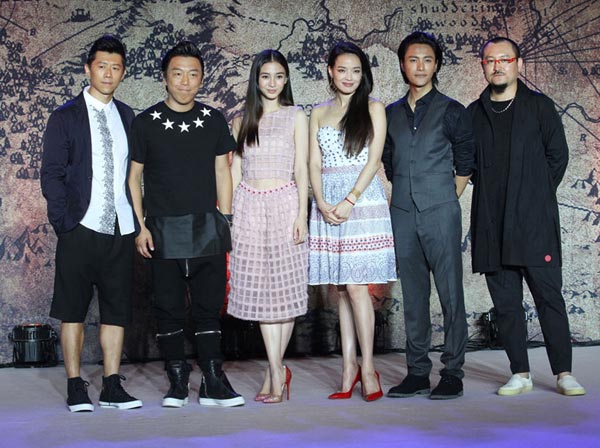 A photo shows the lineup for the movie "Xunlongjue" which will start shooting in August 2014. [Photo/CRIENGLISH.com]
A treasure-themed movie adapted from a popular Internet novel will start shooting on the prairies in north China's Inner Mongolia this month.
The movie "Xunlongjue", which literally means know-how to find the dragon, rounds up actors Chen Kun, Huang Bo and Xia Yu from the Chinese mainland, as well as Hong Kong-based actresses Hsu Chi and Angelababy.
Directed by Wu'ershan, the movie tells the story of several adventurers who are equipped with different skills to locate and find potential treasure from ancient tombs. At a press conference in Beijing, actor Chen Kun says he's been physically preparing for the movie, including martial art skills, since last summer.
"The action director of the movie has also recorded some demos for me, which involves freestyle walking and something called 'claw of flying tiger '. The latter is very dangerous and it often hit me during my practice. So I need more practice."
The movie is expected to be shown in December next year.