Supermodel style, just like me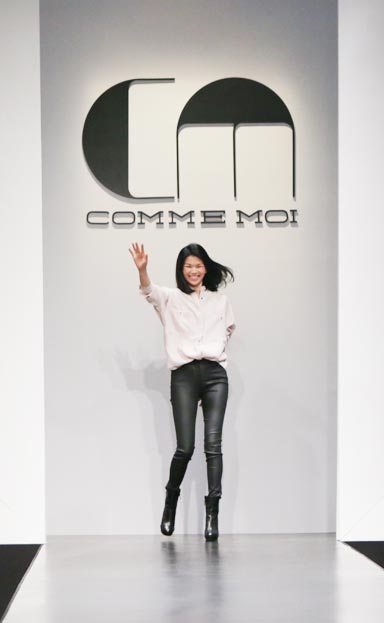 Lu Yan makes a comeback to the runaway not as a supermodel but as a confident designer. Photos Provided to China Daily
Model Lu Yan has launched her own fashion label, with simple designs that reflect her personal tastes. Sun Yuanqing reports.
As one of the first Chinese models to make it on international runways, Lu Yan is more than just a pretty face.
Walking with a boyish swagger and speaking with directness that could be mistaken for arrogance, Lu has a personality just as impressive as her face.
Nearly two years after she became a mother, the 32-year-old supermodel has returned to the fashion scene, this time as a designer.
Her brand Comme Moi, French for "like me", unveiled its fall/winter 2014 collection at its debut show in Beijing on July 1. The 50-look collection, featuring structured woolen coats, fishtail skirts and printed sweaters, is a reflection of the supermodel's own wardrobe, a mix of simplicity, elegance, power and sportiness.
Lu poured some champagne for the models before they strode down the catwalk to enhance their confidence.
Sitting in the front row were some of the most important names in Chinese fashion: actress Zhang Ziyi, stylist Li Dongtian, Elle China's chief editor Xiao Xue and chief editor of Harper's Bazaar China Su Mang. All have been Lu's friends for more than a decade and have witnessed how hard she has worked for the show - scouting material markets and consulting with garment factories all over the world.