The eyes have it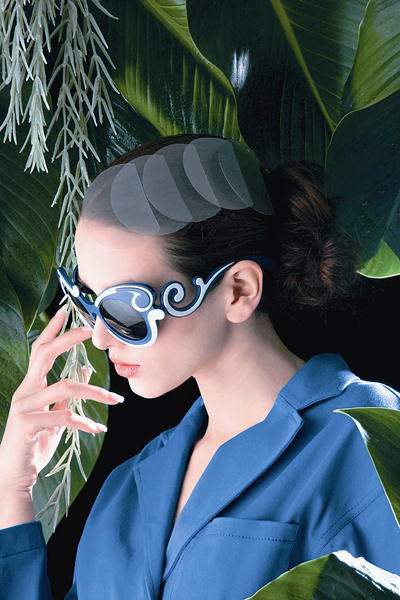 Shades that offer UV protection are worth the investment. Photo provided to Shanghai Star
They may be the windows to the soul, but they are often the most neglected when it comes to protection from the sun. Wu Ni talks about sunglasses and what to look for.
On a bright summer's day, many will apply a thick layer of sunscreen to block the sun's ultraviolet rays, but few people are aware that UV rays can also be harmful to their eyes.
"UV radiation is an invisible killer that can damage many organs of the human body, and the eyes are the most vulnerable. It can increase the odds of getting cataracts, inflamed cornea, macular degeneration and other eye diseases," says Li Haiyan, an ophthalmologist at Shanghai Xinhua Hospital.
"The biggest concern is that the damage UV radiation causes to the eyes will accumulate over time and the damage can never be undone," he says.
In this sense, sunglasses are not only fashion accessories, but also an essential tool for safeguarding the health of your eyes and the surrounding tissue.
"It is important to wear sunglasses that block UV rays, as those that don't will do even more harm to the eyes, because the pupils will dilate due to the lack of light and absorb more UV rays," Li says.
But how do you know that the sunglasses you have chosen will work?
According to Xu Yin, an optometrist from the eyewear producer LensCrafters, using a UV money checker is one way you can test how effectively the harmful rays are being blocked.
When the UV light is cast on a banknote, fluorescent markings will appear showing that the banknote is authentic. Put your sunglasses in front of UV light, if the fluorescent markings disappear, then the sunglasses are effectively blocking the UV light.
People who suffer from myopia will benefit from prescription sunglasses, says Xu, who suggests the short-sighted do an eye test, choose the frame they want and then have the lenses customized as sunglasses.
Extremely shortsighted people will need to spend more for a pair of prescription sunglasses, and they may have fewer frames to choose from.
The lenses of prescription sunglasses are specially designed and need to be looked after.
"In summer, many people have the bad habit of leaving their sunglasses in the car after wearing them. In the long run, the glasses will be damaged by the heat," Xu says.
The correct way to clean your sunglasses, according to Xu, is to put them under running tap water, then use a piece of clean soft cloth or tissue to dry them off.